Children of Eden
at Stage by Stage in Devon, England
Photos and commentary
From the Western Morning News review of this production: "This is a cracking show. It entertains with intelligence and style. From rousing ensemble pieces to moments of genuine poignancy, Children of Eden surprises, amazes and uplifts.... big, bold and colourful... glorious to behold... quality and commitment ran through the performance... it brought the house down with such style that the theatre across the road must have wondered what the noise was!"
Nigel Cheffers-Heard, photographer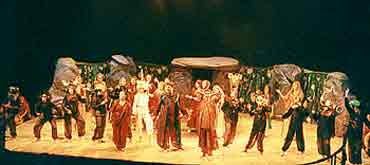 d1
Act 1 scene - "The Naming"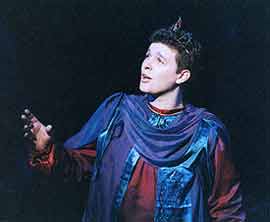 d2
"Father"
Notes from director Ian Trafford: "Our company of 100 performers aged between 12 and 20 first performed the show in 1998 as part of the Exeter Festival. It then transferred to Her Majesty's Theatre, London, for a gala performance on 12th December 1999. The show came to a close at the Northcott Theatre, Exeter after five sell-out performances in November 2000.
"During the time that we have lived with Children of Eden, other productions have come and gone-- Guys & Dolls, Anyone Can Whistle, Jesus Christ Superstar to name but three-- but this show has held a special place in the heart of the company. One day, without a doubt, it will gain the mass recognition that it deserves!"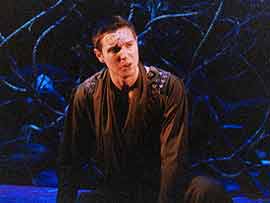 d3
Act II: Noah sings of his challenges.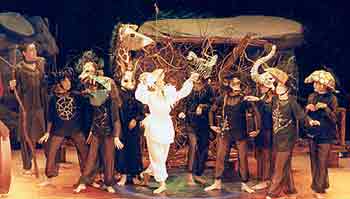 d4
Animals gather to enter the ark.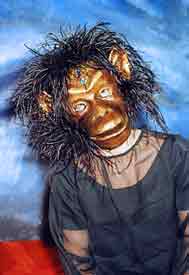 d5
Close up of Monkey mask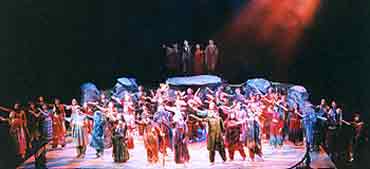 d6
Finale
This production was directed by Ian Trafford, choreography by Tanya Euridge, musical direction by Liz Chugg, set design by Riannon Cheffers-Heard, lighting by Russell Payne, sound by Jamie Pryke.
Websites for Stage by Stage www.stagebystage.co.uk. and www.stagebystage.org