Craig Carnelia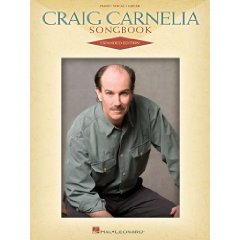 Craig Carnelia Songbook - Expanded Edition (P/V/G Composer Collection)
"Craig Carnelia... works have won numerous songwriting awards and have been performed by an amazing assortment of singers, including Barry Manilow, Karen Akers, Andrea Marcovicci, and more. His musicals include Working, Is There Life After High School, 3 Postcards, and more..." Songbook includes "The Mason," "Just a Housewife," "Flight," and others.
Complete Craig Carnelia Sheet music list in this expanded edition of the songbook:
At The Fountain (Reprise)
Come On, Snow
Cowboy Waltz
Flight
I Cannot Hear The City
I Met A Man Today
Imaginary Friend
Just A Housewife
The Kid Inside
Life On Earth
Look For Me In The Songs
Look In My Eyes
Magellan
The Man In 37A
The Mason
Nothing Really Happened
One Track Mind
The Picture In The Hall
Smart Women
Things I Learned In High School
What You'd Call A Dream
Words Fail Me
You Can Have The T.V.
Craig Carnelia Songbook - Expanded Edition (P/V/G Composer Collection)
Carnelia on Songwriting
Author Carol de Giere interviewed Craig Carnelia about his experiences on Working for the Stephen Schwartz biography, Defying Gravity: The Creative Career of Stephen Schwartz, from Godspell to Wicked,
Here's part of a story....
After seeing Craig Carnelia perform in a cabaret one night, Schwartz asked him to try writing a song based on Terkel's interview with a retired man. "Joe" was one of the first pieces written for the new musical. As a keen study in character-appropriate material, it evoked creative discoveries for both Carnelia and Schwartz.
"My favorite thing about Working in my life as a writer," Carnelia explains, "is that it taught me a great deal about how to write. One of the things it taught me is that people reveal their biggest truths in small ways...."
Schwartz comments on what he learned from Carnelia. Read the whole story of Working in Chapter 10 of the book, available in print and ebook editions.
Craig Carnelia and Working
Craig Carnelia contributed emotionally evocative songs to Working:
"Just a Housewife," "The Mason," "Joe," and "Something to Point To"
These can be heard on the Working album, video, and DVD.
Working DVD
Working

Broadway Archives created a DVD from the tape from American Playhouse, WNET and KCET, 1982
Buy Studs Terkel's Working (Broadway Theatre... [new browser window]
Craig Carnelia Recordings
Music CDs

Craig Carnelia CD: Cast of Thousands: The Songs of Craig Carnelia
Sweet Smell of Success cast album
Sweet Smell of Success (2002 Original Broadway Cast)
Working

Re-release of original cast album with lots of special features.

[Note: the Compact Disc CD 1978 Cast Album of Working the Musical is currently unavailable]
More Craig Carnelia Sheet Music
Working
From http://www.sheetmusicplus.com
Working / Vocal Selections - Warner Bros. Publications (Sheet Music/Song Books) Titles include: All the Livelong Day * Brother Trucker * Cleanin' Women * Fathers and Sons * If I Could've Been * It's an Art * Joe * Just a Housewife * Lovin' All * The Mason * Millwork * Neat to Be a Newsboy * Something to Point to, and others.
Craig Carnelia Bio
As both composer and lyricist, CRAIG CARNELIA wrote the score for the Broadway musical Is There Life After High School and contributed four songs to Studs Terkel's Working, for which he received a Tony nomination. Three Postcards, written with playwright Craig Lucas and presented at Off-Broadway's Playwright's Horizons, was named one of the year's ten best musicals by Time Magazine, and is included in the Burns-Mantle anthology, Best Play of 1986-1987, as Best Musical of the Season. In 1994, Three Postcards received a second production Off-Broadway, this time at Circle Rep.
Also Off-Broadway, Notes, a collection of Mr. Carnelia's songs, was presented by Manhattan Theatre Club. He contributed single songs to The No-Frills Revue, Diamonds and A...My Name Is Still Alice. Craig wrote the lyrics for the Broadway musical, The Sweet Smell of Success, with music by Marvin Hamlisch and book by John Guare. Hamlisch and Carnelia were also represented on Broadway later in 2002 by Imaginary Friends, a play with song by Nora Ephron. Craig has won a number of major songwriting awards, among them the Johnny Mercer Award as "Emerging American Songwriter" and the prestigious Kleban Award for distinguished lyric writing. There are two critically-acclaimed compilation recordings of his songs: Pictures In The Hall (performed by the composer and actress-singer Maureen Silliman) and Cast Of Thousands (performed by Eric Michael Gillet), as well as a published collection of his work: The Songs of Craig Carnelia.
Craig Carnelia history
Craig Carnelia grew up in Floral Park, Long Island and was exposed to Broadway at a formative time in his life. His first theatrical role was as an actor: He played The Boy in The Fantasticks off-Broadway. Later, Stephen Schwartz heard him singing his own songs in a cabaret in New York and invited him to join his team for Working.
Craig Carnelia - Praise
"Craig Carnelia has a gift for writing lives. His most powerful songs seem to effortlessly capture the essence of a soul's existence, whether it be through a job (like his songs for the Broadway musical Working) or a simple defining action (the breakup song "You Can Keep the TV"). He has been in the musical theatre scene since Working opened in 1978, and had two shows grace Broadway last year. Jenna Tessa Fox - Broadwayworld.com