Kristin Chenoweth - Wicked and More
The original Glinda of the Broadway musical Wicked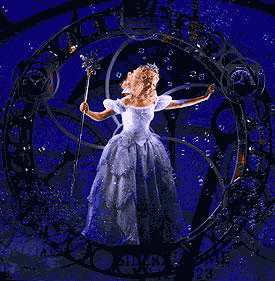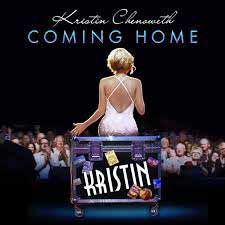 Kristin Chenowth has included "Popular" and "For Good" from Wicked on her live concert album!
Kristin Chenoweth - Coming Home (link opens to Amazon.com)
WICKED:
Before Kristin Chenoweth was cast as Glinda, "the part was a much more peripheral figure," says writer Winnie Holzman. "Based on wanting Kristin to do the show, and how much we felt she brought to it, we started to reshape the whole plot. It became the story of a friendship. That happened because of Kristin; Idina [Menzel] had not been cast at that point."
Watch Kristin Chenoweth and Idina Menzel rehearse and perform "For Good" from Wicked This 3 Disk DVD about Broadway includes a 16-minute bonus feature "Wicked: The Road to Broadway" with footage from the colorful production and Kristin Chenoweth in rehearsal, on stage, and backstage. Watch Kristin sparkle. Broadway: The American Musical - DVD and Blu-ray (opens to Amazon.com)
(To order in Europe use this link: Broadway... - Amazon.co.uk)
Hear Kristin on the WICKED CAST ALBUM: Wicked's composer Stephen Schwartz wrote music specifically for Kristin Chenoweth's remarkable four-octave vocal range. Wicked's Cast Album
Kristin Chenoweth in books
A Little Bit Wicked - Kristin Chenoweth Memoir

A Little Bit Wicked: Life, Love, and Faith in Stages
hardcover, paperback, and ebook. When asked why she decided to write the book, Chenoweth says in press notes, "So many amazing things are happening in my life right now; I felt the need to stand still for a moment and take stock of it all. So many blessings, so much love, all the music, laughter, and challenges. I can see God's hand on me every step of the way, which reminds me to do my best because He's watching me as I go forward. I celebrated a landmark birthday while I was working on the book, and it felt great to be able to say 'so far, so good!'"
Stephen Schwartz biography with Kristin Chenoweth references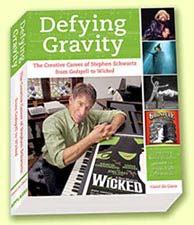 Defying Gravity: The Creative Career of Stephen Schwartz, from Godspell to Wicked
includes a long account of how Wicked came to life. In the book, Schwartz explains his interest in casting Kristin Chenoweth as Glinda. Defying Gravity includes comments about how her performances in readings influenced the development of the role. You will also read about Chenoweth's challenges during the San Francisco out-of-town tryout for Wicked. The book includes lots of photos and illustrations, with 150 pages on the making of Wicked.
Spiritual Life and Acting

Actress Kristin Chenoweth is quoted in the book: Working on the Inside: The Spiritual Life Through the Eyes of Actors
. Chenoweth is quoted in the following chapters: Faith, In the Moment, Listening, Prayer, Hospitality, and Transformation.
Wicked Grimmerie
For spectacular photos of the cast, sets, and costumes for the new musical, I recommend the Wicked souvenir book. GO TO: Wicked Shop - see all the options -See Kristin sparkle and Idina exude her power in the giant photos on the 13 inch x 9 inch full color pages. The 24 pages present scenes from the opening, the first act climax, and many others, all capturing the stage magic of this amazing show. You'll see two large photos of Kristin as Glinda in a "princess" type gown with her tiara, as Galinda at Shiz University and more.
Chenoweth Recordings, DVDs, Albums
Kristin Chenoweth effortlessly transitions between stage, television and film with the captivating grace that only she can project.

Enjoy her new album on CD: Some Lessons Learned
/ MP3: Some Lessons Learned
It includes "Fathers and Daughters" song which she performed on Jay Leno and others. From a review: "Lessons Learned" is anchored in great songs that explore the different aspects of love, God, morality and family relationships.
Karaoke: Sing Songs in the Style of Kristin Chenoweth - This Karaoke includes Girl in 14 G, Taylor the Latte Boy, My Funny Valentine, etc.
Watch Kristin's charming Tony winning performance from You're A Good Man, Charlie Brown on Broadway's Lost Treasures III - The Best of the Tony Awards

A Lovely Way To Spend Christmas
Kristin Chenoweth is a Hollywood star in the holiday sky to show you a 'Lovely Way to Spend Christmas' with her 2008 Christmas album. Includes: I'll Be Home For Christmas, Do You Hear What I Hear?, Silver Bells, What Child Is This?, and more.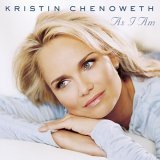 As I Am - Kristin Chenoweth - New Album
Kristin Chenoweth's album. This album includes "Taylor the Latte Boy," "It Will Be Me" and more. Get to know Kristin's personal taste through this collection songs and performances.
ABOUT AS I AM: In addition to covering recent uplifting hits from some of her favorite singers such as Faith Hill ("It Will Be Me"), Trisha Yearwood ("The Song Remembers When"), Amy Grant ("There Will Never Be Another") and Sandi Patti ("Upon This Rock"), Chenoweth introduces "Borrowed Angels," a touching new ballad by Oscar nominee Diane Warren, and Jerry Wise's tenderly reassuring "When You Abide in Me."
She also brings a new flavor to enduring classics like the traditional "Poor Wayfaring Stranger," the hymn "Just As I Am," and the exuberant "Joyful, Joyful, We Adore Thee," based on Beethoven's "Ode to Joy." She samples a wide range of contemporary gospel sounds, as well, from Bill and Gloria Gaither's gospel classic from the 1970s "Because He Lives" to Mercy Me's best-selling "Word of God Speak."
A hidden bonus track offers a bit of a departure from the rest of the album – the charming "Taylor the Latte Boy," a wistfully comic song about a girl who falls in love with her Starbucks barista. The song has become a favorite of Chenoweth's fans in her concert appearances.
Hear Kristin Chenoweth on the Broadway Cast Album
Kristin Chenoweth, who helped make Wicked popular, is one of today's most recognized actors. Her talents will be showcased in the Promises, Promises CD. (The score earned a best orchestrations Tony Award nomination for Jonathan Tunick.) Promises, Promises cast album with Kristin Chenoweth
.
Leonard Bernstein's Candide - Live at Lincoln Center (2004)

Kristin sings "This moment" on John Bucchino's Grateful, a collection of sensitively written compositions in the "adult contemporary" genre with performances by Judy Collins, Michael Feinstein, Art Garfunkel, Patti Lupone, Liza Minnelli, and others.
"....This moment, ripened, bursting, taste it, name it. This moment, precious, fleeting, catch it, frame it..."
John Bucchino is a brilliant songwriter and best friend of Stephen Schwartz. Songs that touch the heart and mind. Find out more about the album that Kristin sings on, as well as the songwriter at our John Bucchino page
Bewitched: DVD Bewitched
or Album: Bewitched
- Chenoweth sings "Witchy Woman"

ANNIE - Don't miss Kristin's performance on Disney's Annie that also includes Godspell movie's lead Victor Garber and other top stars. Amazon.com editors say: "Disney's 1999 TV production of the classic 1977 musical Annie is remarkable for its casting of stage actors rather than ratings trump cards. Tony winners Audra McDonald (Grace), Alan Cumming (Rooster), and Kristin Chenoweth (Lily) join four-time nominee Victor Garber (Daddy Warbucks) and Les MisÚrables veteran Alicia Morton (Annie) to tell the tale of the Depression-era orphan who gets a taste of the upper-crust life."
Annie DVD [new browser window].

Kristin sings Stephen's popular song "Lion Tamer" from The Magic Show on The Stephen Schwartz Album. She also sings a cheery rendition of "Rewriting History" with music by Stephen Schwartz on the multi-artist CD Our Heart Sings Buy - Our Heart Sings [new browser window]
Kristin is featured on a revival album for You're A Good Man Charlie Brown, in which she performed on Broadway. This version of the show includes some new music by Stephen Schwartz's friend Andrew Lippa. Her performance of Sally helped inspire Schwartz to want her cast in Wicked. Buy - You're A Good Man, Charlie Brown [new browser window]
Kristin also sings on several other albums including a Cole Porter album You Never Know and a musical by the composer of Falsettos, called A New Brain, on The Music Man soundtrack, Steel Pier, 110 in the Shade, and Myths and Hymns.
Kristin Chenoweth Sheet Music
"Popular," "Thank Goodness," "For Good" and others - part of Wicked sheet music
"Taylor the Latte Boy" is now available as downloadable individual sheet music: Musicnotes: Taylor the Latte Boy Piano/Vocal/Chords $9.95
Read More about Kristin and Wicked - Interviews and articles
Read about Kristin's career -- interview/article from April 2006: Kristin Chenoweth's Career - 'Wicked' star follows Hollywood's path
In this TheatreMania interview, Chenoweth speaks about some things she likes about playing a famous Wizard of Oz character who has a different edge in Wicked. "...Glinda is very complicated. She has issues!" TheatreMania.com interview - Kristin as Glinda [new browser window]
Now on sale: 100% cotton baseball caps

Wicked shirts

Wicked Shop - see all the options

Souvenirs, logo clothes, posters, books, and more.

Wicked posters, magnets, key chains
Kristin as Glinda
Ben Brantley praised Ms. Chenoweth's variety in her performance as Glinda in Wicked. "Though this petite, even-featured blonde would seem to have a set and familiar persona, it's amazing how she keeps metamorphosing before your eyes and ears. Her voice shifting between operetta-ish trills and Broadway brass, her posture melting between prom-queen vampiness and martial arts moves, she evokes everyone from Jeanette MacDonald to Cameron Diaz, from Mary Martin to Madonna. And her precisely graded vocal and physical inflections turn even predictable one-liners into something so startling that you have to laugh."--NYTImes October 31st, 2003
"Popular"
If you like the bright, bouncy, humorous style of "Popular" you might also enjoy "All for the Best" from Godspell, "No Time at All" and "Extraordinary" from Pippin, "Style" and "Two's Company" from The Magic Show (DVD and video available), and maybe "Bread" or "Luckiest Man in the World" from The Baker's Wife, "Moving in with Linda" (music by Schwartz) from Personals, and "Crowded Island" from Schwartz's Reluctant Pilgrim CD.
1. NO ONE MOURNS THE WICKED - Glinda and Citizens of Oz
2. DEAR OLD SHIZ - Glinda and Students
3. THE WIZARD AND I - Morrible, Elphaba
4. WHAT IS THIS FEELING? - Glinda, Elphaba and Students
5. SOMETHING BAD - Dr. Dillamond and Elphaba
6. DANCING THROUGH LIFE - Fiyero, Glinda, Boq, Nessarose, Elphaba and Students
7. POPULAR - Glinda
8. I'M NOT THAT GIRL - Elphaba
9. ONE SHORT DAY - Glinda, Elphaba and Denizens of the Emerald City
10. A SENTIMENTAL MAN - The Wizard
11. DEFYING GRAVITY - Elphaba, Glinda, Guards and Citizens of Oz
12. THANK GOODNESS - Glinda, Morrible and Citizens of Oz
13. WONDERFUL - The Wizard, Elphaba
14. I'M NOT THAT GIRL (reprise) - Glinda
15. AS LONG AS YOU'RE MINE - Elphaba and Fiyero
16. NO GOOD DEED - Elphaba
17. MARCH OF THE WITCH HUNTERS - Boq and Citizens of Oz
18. FOR GOOD - Glinda and Elphaba
19. FINALE - All
Bio
SHORT BIO
From her official bio: Acclaimed for her distinctive comedic gifts as well as her wide-ranging musical abilities, Chenoweth made her Broadway debut in a production of Moliere's Scapin starring Bill Irwin, followed in the spring of 1997 by the Kander and Ebb musical Steel Pier, for which she won a Theatre World award. The next season, she appeared in the City Center Encores! production of Strike Up the Band and the Lincoln Center Theater production of A New Brain. During the 1998-99 season, she created the role of Sally in the first Broadway production of You're a Good Man, Charlie Brown, sweeping the Tony, Drama Desk and Outer Critics Circle Awards as the season's Best Featured Actress in a Musical. ....
Chenoweth starred in the sitcom "Kristin," which lasted six episodes on NBC in 2001. Her other TV credits include "The West Wing," "Frasier," "Sesame Street," Marian in "The Music Man" and Lily in "Annie." She is the inspiration for the character of Harriet Hayes in the NBC drama "Studio 60 on the Sunset Strip," created by Aaron Sorkin. Chenoweth recently signed on to star in ABC's "Pushing Daisies," a pilot under consideration for next season's schedule.
Announced Dec 18, 2008 Kristin Chenoweth has been tapped to star in NBC's David E. Kelley legal drama. In "Legally Mad," Chenoweth is set to play Skippy Pylon, a cheerful and brilliant attorney who nonetheless exhibits flashes of psychosis -- and enjoys being mistaken for a teenager.
Chenoweth will make her Met opera debut as Samira in the revival of John Corigliano's Ghosts of Versailles, scheduled to open in March 2010.
(Note: Kristin is sometimes misspelled Kristen Chenoweth or Cristin Chenoweth)