Broadway Diva
Liz Callaway
Recordings
Liz Callaway sings Stephen Schwartz's "Meadowlark" from The Baker's Wife on two of her CDs: Sibling Revelry and The Story Goes On. Liz is one of the most sought-after Broadway vocal talents. She frequently performs in Stephen Schwartz and Friends concerts.
Listen or download MP3 files of Liz Callaway songs:
Liz Callaway MP3s
or orders CDS:

The Story Goes On (Varese Sarabande 1995)
Buy The Story Goes On. [new browser window]
The Story Goes On includes:
1. You There in the Back Row - from 13 Days to Broadway (Cy Coleman/Barbara Fried)
2. I'm Gonna Wash That Man Right Outa My Hair - from South Pacific (Rodgers & Hammerstein)
3. Since You Stayed Here - from Brownstone (Peter Larson/Josh Rubins)
4. Knowing When to Leave/Promises Promises - from Promises, Promises (Burt Bacharach/Hal David)
5. Where Is Love? (with Billy Porter) - from Oliver! (Lionel Bart)
6. Meadowlark - from The Baker's Wife (Stephen Schwartz)
7. Sleepy Man - from The Robber Bridgegroom (Robert Waldman/Alfred Uhry)
8. Our Time (with Ann Hampton Callaway) - from Merrily We Roll Along (Stephen Sondheim)
9. I Got the Sun in the Morning - from Annie Get Your Gun (Irving Berlin)
10. Stop, Time - from Big (David Shire/Richard Maltby, Jr.)
11. One Boy - from Bye, Bye Birdie (Charles Strouse/Lee Adams)
12. Marry Me a Little - from Marry Me A Little (Stephen Sondehim)
13. The Story Goes On - from Baby (David Shire/Richard Maltby, Jr.)
14. A Place Called Home - from A Christmas Carol (Alan Menken/Lynn Ahrens)
OTHER LIZ CALLAWAY CDs or PERFORMANCES
Sibling Revelry [new browser window]


Hair (2004 Concert Cast)
Hear Liz Callaway sing "Good Morning Starshine." September 20, 2004 Actors Fund concert performance with Kathy Brier, Gavin Creel, Darius deHaas, Harvey Fierstein, Hunter Foster, Ann Harada, Jennifer Hudson, Norm Lewis, Julia Murney, Adam Pascal, Billy Porter, RuPaul, Jai Rodriguez, Lillias White. Musical Director and Conductor Seth Rudetsky hints at "special guest star" and bonus track.
Her most recent album Liz Callaway Passage of Time
Anywhere I Wander - Liz Callaway Sings Frank Loesser
The Beat Goes on - Liz Callaway
Baby (1983 Original Broadway Cast)
The Spitfire Grill
Merrily We Roll Along (1981 Original Broadway Cast)
And more.
About Liz Callaway
Ms. Callaway is recognized as one of Broadway's best singers and actresses and is also an accomplished recording artist. Liz has been seen on Broadway in Cats (performing "Memory" as Grizabella), Miss Saigon, The Three Musketeers, Merrily We Roll Along, and Baby, for which she earned a Tony Award nomination. She has performed in various concerts and shows around the world.
Her voice can be heard in many animated features and Liz supplied the singing voice of Anya in the animated film Anastasia. She has many film and television credits and won an Emmy Award for her work on "Ready To Go." Liz and her sister Ann Hampton Callaway won MAC Awards for their cabaret show "Sibling Revelry," which also produced a commerical recording. Liz recently released her third solo album, "The Beat Goes On" from Fynsworth Alley and is busy performing selections from this compilation of songs from the 1960's around the country.
Liz Callaway sings Stephen Schwartz songs in Concert
Liz Callaway appears in concerts of "Stephen Schwartz and Friends" along with cabaret singer Scott Coulter. For comments about the concerts see the News page
Interview with Liz Callaway
Taking It To The Streets: Liz Callaway Tours with Stephen Schwartz
Liz Callaway is what you might call a quadruple-threat. Not only can she act, sing and dance but also she possesses the extraordinary ability to completely captivate an audience through her performance.
Beginning with the 1980 off Broadway production of Godspell Liz has continued to enchant critics and audiences alike with her remarkable performances in such shows as BABY, MISS SAIGON, CATS and most recently THE SPITFIRE GRILL. Liz is also one of the most sought-after vocalists in the New York cabaret/musical theatre scene having headlined in such venues as Feinstein's at the Regency, Rainbow and Stars, and Lincoln Center and can be heard on countless cast recordings and solo albums.
Liz is one of those rare talents that, after hearing her sing, you're convinced the songs must have been written especially for her. Case in point, Feb 4, 2002 at the Pasadena Playhouse. It's the end of Act I of "Extraordinary: A Tribute To Stephen Schwartz" (co-produced by ASCAP and the Musical Theatre Guild), Liz takes to the stage to sing one of Stephen's most popular songs "Meadowlark" from The Baker's Wife. Six bars into the song, the audience is enraptured. By the end, there's tremendous applause as Liz brings Act I to its triumphant conclusion.
It had been a busy weekend for Liz as she had been performing in concert with Stephen and singer Scott Coulter up in northern California as well as preparing for the tribute night. Before the show, I had an opportunity to sit down for a chat with Liz to discuss her career and in particular, her concert work with Stephen Schwartz.
Shawn McCarthy: How did you get started in the New York musical theatre scene? Was MERRILY WE ROLL ALONG your first show?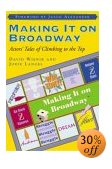 A hot seller:
Making It on Broadway: Actors' Tales of... [new browser window] (opens to Amazon.com)
"MAKING IT ON BROADWAY (Allworth Press) goes beyond the glitz and the glamour to show what really happens both on a Broadway stage and in the personal lives of Broadway actors. In their own words, Jason Alexander, Terrence Mann, Donna Murphy, Lea Salonga, and more than 150 of today's Broadway performers—including fifty-five Tony Award® winners and nominees—talk candidly about living and working in the new era of the mega-musical."
Liz Callaway: Yes. I moved to New York when I was eighteen with a goal of wanting to get into the chorus of an off-Broadway show (that was like my attainable goal). So I took classes and was a singing waitress and I actually did a club act. While I was doing this cabaret act this pianist/composer heard me and knew they (the producers of MERRILY) were looking for young people for the new Sondheim show and he told this agent that he knew that they should submit me. So as a favor to this guy they submitted me and five auditions later I got the show. The day after I was cast in MERRILY I was also cast in my first off-Broadway musical, GODSPELL.
SM: What do you remember about the Godspell experience? Was Godspell the first Schwartz show you were in?
LC: First and only one I've ever done. I got paid $18 a week. Jason Graae was in the show; Scott Bakula (of QUANTUM LEAP fame) played Jesus. I got to sing, "Bless the Lord." Now, it wasn't the world's best production of GODSPELL, but Jason Graae, to this day, remains one of my best friends, so that was the best part of the whole thing!
SM: On your 1995 album, "THE STORY GOES ON," you included a beautiful rendition of "Meadowlark" from The Baker's Wife. What drew you to that particular song?
LC: It was the first song I actually decided to record. Back when I was 18 doing my club act, I included it in the show, as well as when I was a singing waitress, though I could only sing on Tuesday's as that's when the piano player who could play it was available. But I've always loved that song and love the fact that it tells a story and as an actress/singer it's just the perfect song. It's my favorite theatre song to sing. And to do it with Stephen is a riot. This first time I sang it with him was at the Town Hall Cabaret convention and I had sung it a million times before but I was so nervous with him at the piano even though he's so nice and we had rehearsed it, but I was still a wreck. I'll be very nervous to sing it tonight, which is ridiculous, but once I'm into it I'm fine. But the song is a real classic, I think.
SM: Can you discuss how you first became involved with the "Stephen Schwartz and Friends" concerts?
LC: Stephen called me up and said, "Whatcha doing? Would you like to come and do some concerts with me?" And I said, "Sure! I'd love to" and the dates pretty much worked out. It's been so much fun too. We bring our tennis rackets when we're on the road. Stephen has met his match in terms of an avid tennis player/fan and we get along just great! I can remember the first time I met Stephen. I did the original demo or one of the original demos for he and Alan (Menken) of "Just Around the Riverbend" from POCAHONTAS at a studio. So I went in and worked on it with them and the song turned out a little different in the movie.
SM: Other than "Meadowlark," what songs do you perform in show?
LC: I do "Lion Tamer," (The Magic Show) "Defying Gravity," (from Wicked), "In Whatever Time We Have," (Children of Eden) and sometimes "Stranger to the Rain." Scott Coulter (who frequently, is the third member of Stephen Schwartz and Friends) was under the weather this week, so we had to change things around bit. I mean he was there, but couldn't sing much so Stephen and I had to pick up the slack. It was fun, though. When things like that happen I say, "Let's try things and have some fun." So I sang some songs that I hadn't sung before. I also do "Colors of the Wind," and in the medley we do I get to sing, "Bless the Lord" which is such fun to do. In the medley I don't have to do that high ending as we skip that part, thank God!
SM: Are there any standout moments as in funny, poignant, memorable moments that you can share with respect to working with Stephen?
LC: I've only done a few concerts at this point. Certainly nothing's gone too terribly wrong though I have sung a few interesting lyrics. (laughs)
SM: "Schwartz and Friends" has traveled to quite a number of cities, what's it like to be on the road with Stephen?
LC: It's been great. I mean I like to have a good time. I don't get uptight, though I do get a bit nervous as I said but I'm of the school of having a good time. Like this weekend when we had to improvise with Scott being under the weather and Stephen was just totally great about it. He said, "Let's try this or let's try that..." and it was fun. I think sometimes the best shows happen when you don't think about yourself and you just kind of go "Ok, buckle your seatbelts, here we go!" And you know, one of my favorite things to do is sing backup to songs like "Reluctant Pilgrim" or "Rewriting History." I just love it. I mean, who knew? But it's fun because he writes such great songs and he sings them so well. There's nothing like hearing a composer do his or her own stuff. He did "Corner of the Sky" this weekend and I said to him "You always have to do that song now," because hearing him sing it is just magical.
There's something about Stephen's songs that are very intelligent and I love the contemporary sound of his music. He writes my kind of song! I love the great standards too but there's something contemporary yet timeless about his music. You know, it doesn't sound dated like 70's or 80's or anything like that. It's also challenging music to sing but I like that and it's fun for me. He encourages me to interpret it however I want which is great. So he's very open to whatever interpretation you want to do.