Stephen Schwartz Concert Reviews and Details
Personal Reviews of concerts by Stephen Schwartz and Friends
Spring 2001
One person attending the concerts offered this testimonial: "The three individual artists combine to create something gigantic... Scott Coulter and Liz Callaway can absolutely bring an audience to an utter hypnotic state with their delivery of these songs. When she goes into "Meadlowlark" or Scott shares the soul-baring "Cry Without a Reason," it's like the whole world stands still for a moment -- just to acknowledge the pure beauty of what is being handed so generously to everyone lucky enough to be in the room. And there sits Stephen Schwartz at the piano. Completely unpretentious, totally engaging, with a generosity of soul and spirit that very gently brings you to the realization that you're in the presence of emotions and expression that are simultaneously so very honest -- and so much bigger than anyone of them -- or us -- alone."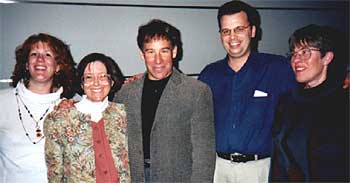 Above: Stephen Schwartz poses after a concert. Left to right: Debi Collett, me - Carol de Giere, Stephen Schwartz, Shawn McCarthy, and Ellen.
Stephen Schwartz and his singing guests always sign programs and CDs after the concerts. The trick to getting a snapshot with Stephen is to wait for the end of the autograph line.
Fall 2000 - Connecticut -
Mother and daughter at Stephen Schwartz and Friends concert
Written by Kate (daughter)
We were sitting in the second row, with a perfect few of the piano keys (at my request). Remarking upon the stage, we both agreed that it was definitely the perfect design; it consisted of only one black piano, three black stools, three microphones, and an annoyingly white water pitcher. Sure, it was irritating, but it definitely finished the picture off.
Soon enough the lights dimmed down until the pitcher stood out like the North Star and the typical announcements whispered from the speakers. Don't drink, don't eat, don't talk, don't leave, don't stand, don't move, don't breathe or cough or sneeze, but enjoy the show! Please welcome three-time Academy Award winner Steeephen Schwaaaaaartz! Followed by golf claps with the exception of the hysteric clapping from two unnamed females in the second row.
So he comes on, grinning like a fool, and takes his seat at the piano. With another smile and purse of the lips, he starts in on Chanson. Things are going well. The only performers worth watching are the ones who seem as excited about the pieces as they were when they first wrote them; Stephen is one of those. It was amazing to watch him, with such genius, float on the same inner-high that one of us can get from pulling off a sight-reading adventure with our favorite show tune.
Moving on, Debbie Gravitte entered shortly thereafter to the introduction of "She's an extraordinary actress and one hell of a tennis player!" and dived into "Blame It On The Summer Night." For the record, she has a beautiful alto voice which will be showcased in The New Red Hot and Blue at Goodspeed in East Haddam, CT. Later on, tenor Scott Coulter graced the stage and performed the parts of both Quasimodo and Pocahontas with ease.
I've never seen my mother so affected by music as she was that night. Usually I'm the one convulsing while she stands back and chuckles, but she didn't stop crying that night. Not that anything was sad; it was just incredibly meaningful and beautiful. I never have, and never will, sit through a concert so simply wonderful yet joyfully esoteric as Stephen Schwartz's performance.
Written by Jane (mother):
This particular evening came at the end of a long day, and I was not exactly in the mood for going out! But we had these tickets reserved for a Stephen Schwartz concert, and my daughter's enthusiasm buoyed me along.
Although familiar with the work of Mr. Schwartz (I went through college to the sounds of Godspell), it was through my daughter that I had become more aware of the rest of his work. And I had been looking forward to hearing him in person, not quite knowing what to expect. It was not disappointing! In fact, every minute of this concert was enthralling, from the moment he entered the stage until he took his last bow.
His piano playing, voice, warm manner, and endearing smile enveloped the audience and kept them captivated throughout the evening. It was never a rowdy crowd, but it also was an environment that evoked intimacy and feeling. He certainly made me cry, particularly with some of his selections off Reluctant Pilgrim.
He joined Debbie Gravitte and Scott Coulter for some selections from his musicals - and they certainly did them justice. But the thing that struck me most was the gift of his talent, his music, his lyrics, and ability to reach out and touch people's souls. I returned home that night with my spirit re-energized, and thankful for the experience!
February 2000 - MAV's Concert Review
I had an amazing evening tonight, Thursday Feb. 24, 2000. 1.5 hours of watching and listening to the singing and piano-playing talents of Stephen Schwartz. Put on by "Curtain Call" associated with The Addison-Penzak Jewish Community Center of Silicon Valley Cultural Arts Program, the evening also featured Val Diamond and Tim DiPasqua in the intimate setting of the Villa Montalvo Carriage House Theatre in Saratoga, CA.
The lights were dim, but I plugged away on a mini-program (forgot my notebook) and captured at least the list of songs for the production: The show opened with an introduction by a lovely lady who unfortunately got the name of Tim mixed up with someone named Tina. ;) I heard some commotion about it behind me, and a little laughter..all to be explained after the show.
Stephen came out onstage, sat at a grand piano and played...the piano-rookie notes of "Heart & Soul" which of course if "Crowded Island". Stephen told us the theme of the evening would be "Finding the New in the Familiar". The next piece "Chanson" fulfilled that splendidly. Other numbers were "Code of Silence" (I don't remember "The Sopranos" TV show being mentioned in the song...I'll have to re-listen to this!) and "The Hardest Part of Love." He introduced the next piece, "Prestidigitation", by saying it was influenced by a dream he had which in turn was influenced reading a short story and watching "Twilight Zone." I think the latter influenced the microphone which was out to 'get' Stephen during this song.
Val, who is known to Bay Area folks as a talented member of "Beach Blanket Babylon" and for a part in "Nine Months", sang "Spark of Creation" and stunned this reviewer. What a phenomenal voice! Tim was then introduced (Stephen picking up the 'Tina' mistake and letting us know that 'she' had a sex-change between the intro. Very funny moment.) Tim gave Stephen a break on the piano, singing and playing "Someday" from "Hunchback". Tim has a gift of pulling emotion. Then in what Stephen called an unusual moment, Tim stayed on the piano while Val and Stephen did a "Two's Company" duet from "Magic Show." "Blame It On The Summer Night" highlighted Val's saultry voice (I would love her to try "Turn Back Ol' Man"!) Tim did "Rewriting History" and (I can't read my notes here. ug.) "Time to Stay...?"
Then for some special treats: As many of us know "Hunchback" was done as a theatre production in Germany. We were treated to "Out There" in both English and German. (Stephen: "You know you've made it when "South Park" does a satire on your music.") And we were treated to two tunes from the upcoming "Geppetto". First Val (Blue Fairy) singing "Just Because It's Magic" and Stephen (Geppetto) singing a cry-your-eyes-out ballad called "Since I Gave My Heart Away." Where were the hankies?!
And what would a concert be without 'the greatest hits medley'!! Here was the rep: "Day By Day" (Val), "Magic To Do" (Stephen), "Corner of the Sky" (Tim), "Meadowlark" (Val), "Colors Of the Wind" (Stephen and everyone...great harmony!), and finally "When You Believe". The last song was a tune that, if I remember correctly, has not been recorded. The one line I remember was "enfolded by forgiveness's embrace" which Stephen song solo off the piano. Oh, you MUST record this, Stephen. Another emotion tugger. We gave them a standing ovation and were quickly ushered down into our seats for one last song: "Dreamscape." Powerful stuff!
After the show, I overheard two ladies talking (sorry, I eavesdropped.) Seems I was sitting in front of Tim's first music teacher and next to Tim's mom! Wonderfully down to earth folks who didn't seem to mind that I was a theatre groupie. :) I met Gus (Tim's cousin) and many other family and neighbor folks. Talk about feeling the love that night!
I did get a chance to talk with Stephen. Great guy! Easy to chat with. Mentioned the Stephenschwartz.com forum. Took a pic. Introduced him to my Mavica camera. *sigh* the evening was much to short...and will live for a long time. Thank you, Stephen. Thank you, Val & Tim. Bravo! Brava!
MAV
"Now your whole life is new."
Organizing a Schwartz Concert
By Michael G. Smith
President, San Benito Stage Company, Hollister, California www.sanbenitostage.org
Have you ever thought of booking a world-renown, Grammy- and Academy-award winning song writer/performing artist? Good news! It may be possible. Stephen Schwartz gives concerts with Tony Award-winning singers like Debbie Gravitte, Liz Calloway and Broadway Cabaret vocalist Scott Coulter. The trio alternate singing melody and backup harmony accompanied by Schwartz's piano mastery. Greg Phillips of Creative Stage Artists Management handles all of the business arrangements with expertise and the highest professionalism. Greg is also an event producer that can walk you through the entire production process. The performance contract is easy to read and conspicuously absent of unnecessary legalese.
Michael Cole, Stephen Schwartz's assistant, is available via email to facilitate your information needs and arrange merchandise shipment. Both of Stephen Schwartz CD's, Reluctant Pilgrim and The Stephen Schwartz Album, are recommended for sale and autographing after the concert. (Uncharted Territory, Stephen's new CD, will be available in 2001 as well.)
San Benito Stage Company, the community theatre group with which I'm affiliated, presented Stephen Schwartz and Friends in concert February 5, 2001. I ordered a press kit from Greg Phillips and presented the opportunity to my fellow Board Members. They were intrigued with the idea and asked me to gauge the level of support from other community groups in order to help them determine whether we should commit our resources to the opportunity. As a result, we garnered financial and publicity support from the Chamber of Commerce, the Community Foundation, the Arts Commission, the Elk's Lodge, the Concert Association and the local high school choir and drama department. This support, in turn, facilitated corporate sponsorship.
The result was, in the words of the local press, "a complete triumph" and "a hit". San Benito Stage Company netted thousands of dollars in positive revenue and raised the profile of the nascent theatre group exponentially.
This really is an opportunity to bring entire communities together to share and celebrate some of the world's best loved music with a living theatre legend.
For information on booking a Stephen Schwartz and Friends concert:
Spot-On Entertainment is now booking Stephen Schwartz Songs concerts with Debbie Gravitte, Liz Callaway and Scott Coulter. www.spot-onentertainment.com