Wicked Fan Party
Party plans
For a simple party, invite your fan friends over to sing along with a CD or sheet music: Wicked accompanying tracks or Wicked sheet music.
For an elaborate party - spin off of Amber's idea. Amber Buescher of Dallas Texas planned ambitiously for her Wicked party, when the show came through on tour.
Wicked Party Dallas, TX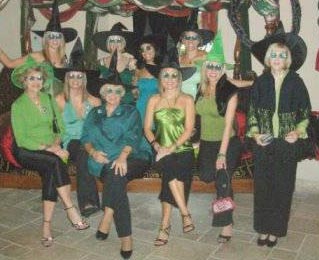 The Gang all Ready for the Show!!!
By Amber Buescher
My obsession with the musical Wicked began early in 2005. I had heard about Wicked through a couple friends of mine who saw a special on PBS. I ran out and purchased the CD and immediately became addicted. I love to throw over-the-top theme parties and I decided to throw a party when Wicked came to Dallas in October of 2005.
As my husband stated, I became OBSESSED with all things Wicked. The obsession did not end with the musical – it included the performers, the book, the author, and even Wizard of Oz. I began scouring the earth for Wicked merchandise to have at the party.
For the party initiation, I used a picture of the cast and had invitations made on a green background. The invitations read:
Be changed for the better and join me for a wickedly scandalicious festivity. You'll hang with the right cohorts, Elphaba and Glinda. You're gonna be Popular! Witch attire is green and black, as you know black is this year's pink! We must all dress alike because together we'll be the greatest team there's ever been.
Tricks and spells begin at 4:00 pm at the most swankified place in town, Hotel Zaza #406. Delightful ozzmopoloitans will be served prior to dinner at Dragonfly. We will then defy gravity and fly on down to the Emerald City for Wizomania!!!! Who knows – the end of the night may even see us dancing through life at the Ozz Dust Ballroom. Don't miss the party – after this, no good deed will I do!!
I hope you're happy! I hope you're happy now – for the first time I feel WICKED!
For the party I obtained the following items:
· Wicked Cookbook, which I made several recipes from for the party (try ebay)
· Original MAC make-up sheet used for Elphaba's make-up
· Signed microphone by Idina Menzel
· Stila promotional Wicked make-up sets (Glinda and Elphaba)[These are no longer available]
· Wicked script [as far as is available in the Grimmerie].
· Cast bios, which I printed out on green paper
· I visited websites and printed photos of the show and cast and placed them in picture frames all over my house and placed extras in a photo album
· Wizard of Oz figurines
· Wicked playbills from various theaters
· Articles containing any mention of Wicked
· Wicked posters, mementos, etc from the official site
· Brooms, Witch Cauldrons, Hats, Crowns, Wands, Bubbles, etc.
The party was hosted at my place prior to the play. I served green martinis [adults only] and many recipes from the Wicked Cookbook. The music was playing in the background and everyone did their best rendition of "Defying Gravity" and "Popular."
I made 2 gift bags for each of my guests – to get into the spirit: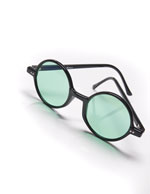 1. The Elphaba gift bag contained: a witch hat, Wicked buttons, green bracelets, green "Wizomania" sunglasses (as Elphie and Glinda wore in the show), and green candy -- FIND THE GLASSES IN THE WICKED SHOP
2. The Glinda gift bags contained: a crown and wand, a "bubble" ring, a sparkly princess tattoo, and pink candy.
Below are some pictures from the party:
1. Table Set-up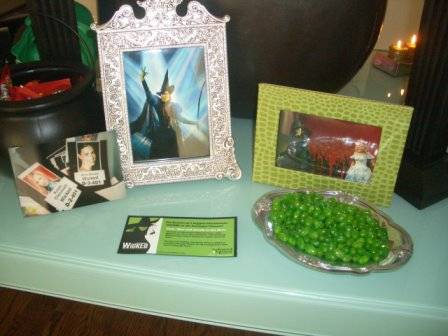 Pictures of Wicked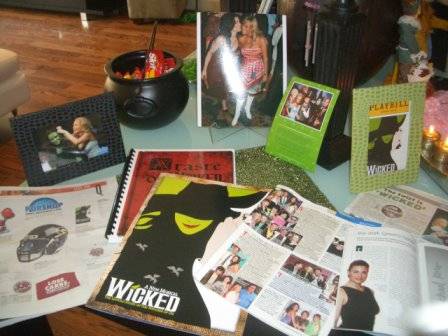 Wicked Program, Cookbook, Related Articles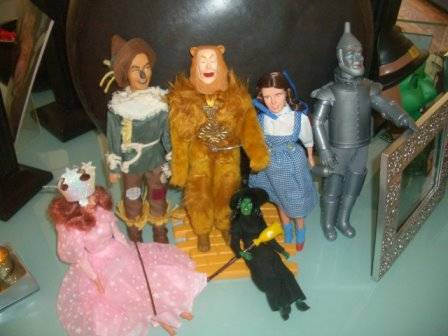 Couldn't leave out the other cast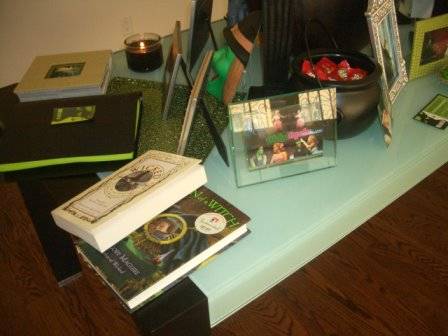 Wicked novels by Gregory Maguire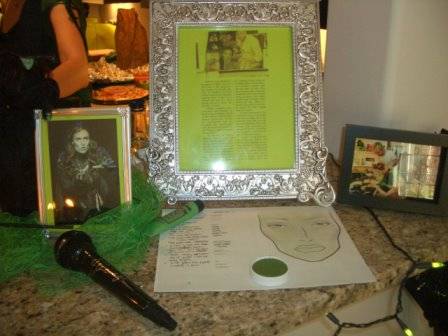 Elphaba Mac Make-up Sheet with framed article on how they applied the make-up along with photos of application and signed microphone from Idina Menzel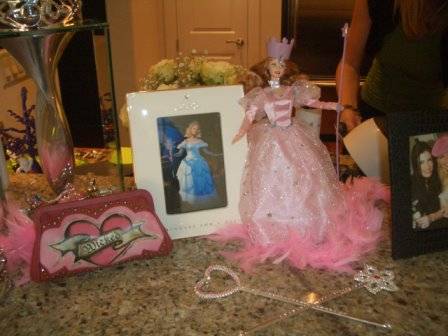 Glinda's set-up – all things princess, including and Isabella Fiore Wicked Purse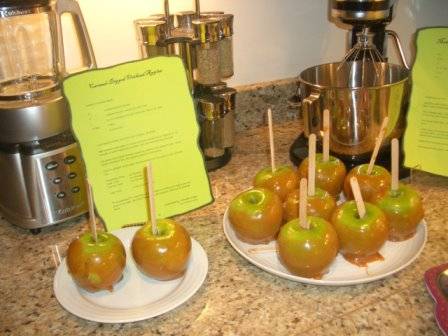 Caramel Apples – A Recipe from the Wicked Cookbook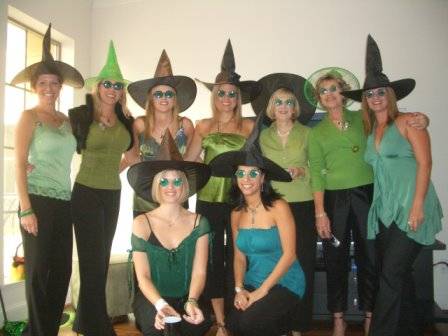 After opening the Elphaba Gift Bags: Wearing the Witch Hats and Wizomania Sunglasses Hats and Glasses are available through the Wicked shop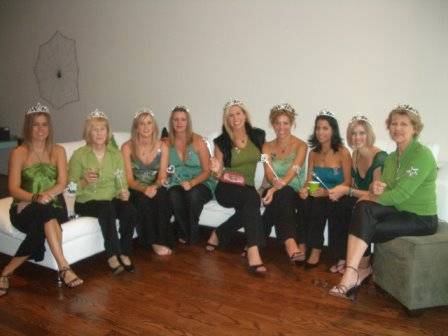 After opening the Glinda Gift Bags: Wearing the Crowns and Wands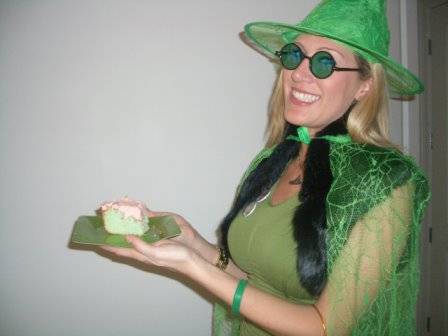 Pink and Green Cake from the Wicked Cookbook
---
RETURN TO THE MAIN WICKED PAGE