Wicked the Musical Links to Fan Sites and Sites with Forums
Don't miss our Wicked index page: All About Wicked - Wicked home page
Chat about Wicked on Wicked E-mail Groups, Wicked Message Boards, Wicked Fan Sites, Podcasts, etc.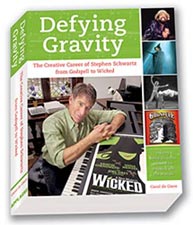 Hello Wicked fans. Get Stephen Schwartz's autograph on the book that describes the full story of the making of Wicked . Find out more at DefyingGravityTheBook.com
Some Official Sites with Forums or Podcasts for Schwartz and Wicked
Stephen Schwartz's official site has a forum for all Schwartz musicals. StephenSchwartz.com [new browser window]
MusicalSchwartz.com (the site you are on) is a fan site for Stephen Schwartz. Stephenschwartz.com serves as the forum for this site. MusicalSchwartz.com has many pages for fans, such as Wicked history | Wicked Lyrics | Wicked fan party - ideas for a fan group gathering | Wicked shop where you'll find logo clothes, and The Schwartz Scene newsletter with updates from the show's composer.
Wicked's official fan facebook is at Facebook Wicked and there's a section of the official site for fans at Wicked site news and fan info
UNLIMITED: The First Wicked Fan Society is now at: http://unlimitedwicked.weebly.com/index.html
Gregory Maguire has a site GregoryMaguire.com
UPDATE 2016 - The best source for Wicked information is the Wicked official Facebook page and the fan sites on Facebook such as Unlimited.