Wicked - Director Joe Mantello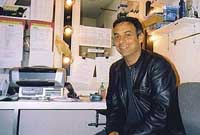 Joe Mantello received many nominations and awards for Wicked, his Broadway musical directorial debut, and he has served as the official director of the show's many productions worldwide, with the support of a team of backstage personnel.
Mantello was an essential part of the creative team (with Stephen Schwartz, Winnie Holzman, and the show's producers) that planned Wicked, starting in the summer of 2001.
Author Carol de Giere interviewed Mantello for Defying Gravity: the Creative Career of Stephen Schwartz, from Godspell to Wicked, a book that chronicles the collaborative journey for Wicked. The book reveals artistic efforts as well as many of the creative disputes in the 150 pages about Wicked's development. www.defyinggravitythebook.com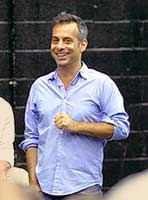 JOE MANTELLO Bio - Directing credits include 9 to 5, November, The Receptionist, The Ritz, Blackbird, Three Days of Rain, The Odd Couple, Glengarry Glen Ross (Tony nomination), Laugh Whore, Assassins (Tony Award), Wicked, Take Me Out (Tony Award), Frankie and Johnny in the Clair de Lune, A Man of No Importance, Design for Living, Terrence McNally and Jake Heggie's Dead Man Walking for the San Francisco Opera, The Vagina Monologues, bash, Another American: Asking and Telling, Love! Valour! Compassion! (Tony nomination), Proposals, The Mineola Twins, Corpus Christi, Mizlansky/Zilinsky, Blue Window, God's Heart, The Santaland Diaries, Snakebit, Three Hotels, Imagining Brad.
Mr. Mantello also directed the film Love! Valour! Compassion!
As an actor: Angels in America (Tony nomination) and The Baltimore Waltz.
He is a recipient of Outer Critics Circle, Drama Desk, Lucille Lortel, Helen Hayes, Clarence Derwent, Obie and Joe A. Callaway Awards.
He is a member of Naked Angels and an associate artist at Roundabout Theatre Company.
For more on Joe Mantello (although not up to date) see Hollywood.com [new browser window] (opens new browser window).