Leonard Bernstein - Mass with additional English lyrics by Stephen Schwartz
DVD - Leonard Bernstein Mass at the Vatican City (2000) [new browser window]

This two-hour Mass video was taken from a staging at the Vatican as part of the Jubilee 2000 celebration of the Roman Catholic church. Directed by Enrico Castiglione, Douglas Webster sings the Celebrant, and the cast also includes 2004 Tony winner Anika Noni Rose, Tim Shew, and Kevin Anderson (New York City Opera's A Little Night Music).
Bernstein Century - Bernstein: Mass
(with added Lyrics by Stephen Schwartz) Mass offers a stylish mix of contemporary and ancient modes--rock, jazz, electronic music, Gregorian chant. One of the favorite songs is "Simple Song." The lyrics are mostly from Psalm 121.
Bernstein Mass CD [new browser window]
"Simple Song" from Mass
Simple song is one of the most heavenly songs you can imagine. It his recently been recorded by Broadway vocalist Matt Bogart - Simple Song (2002 - Jay Records)
Bernstein Mass Sheet Music; "Simple Song" Sheet Music
See Musicnotes.com - for "Simple Song" and "World Without End."
SHEET MUSIC PLUS Shop for Broadway Sheet Music A - Z Search on Mass Bernstein Mass for a SATB choir version, simple song, etc.
About Stephen Schwartz and Bernstein's Mass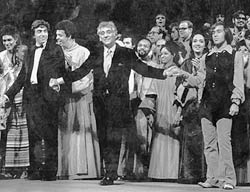 How did 23-year-old Stephen Schwartz become involved in a project with such a respected music celebrity as Leonard Bernstein?
[photo is from a curtain call for Mass during previews in 1971 - Schwartz is on the right.] Leonard Bernstein's sister Shirley, a prominent New York talent agent, had accepted Stephen Schwartz as a client around 1969. Schwartz wrote lyrics for a song for the play Butterflies are Free. Schwartz's Godspell score became an instant hit when the show opened May 17, 1971, and he was suddenly a hot songwriter of the moment.
According to a Bernstein biographer [Humphrey Burton Biography of Leonard Bernstein
], Leonard was behind on his deadline for Mass that was supposed to be the opening piece for the Kennedy Center in the fall of 1971.
in June of 1971, Shirley Bernstein paid a visit to her brother, finding him "terribly depressed and searching desperately for a collaborator to work on lyrics for the songs." In her mind, Stephen Schwartz was the obvious best choice. She decided her brother should see Schwartz's newly opened musical, Godspell. "Lenny was almost docile," Shirley remembers; "I took him by the hand and led him into the show."
Having enjoyed it and duly noted Schwartz's clever original lyrics for original songs "All For the Best" and "Learn Your Lessons Well," Leonard Bernstein invited Godspell's young songwriter to assist with English lyrics for Mass. The two met in Bernstein's Park Avenue studio and they clicked. The elder composer called his sister in euphoria. "Oh my God, this is it. Now I can finish Mass."
In Carol de Giere's Stephen Schwartz biography Defying Gravity, Schwartz is quoted as saying "The Kennedy Center was set to open at the beginning of September and something had to be up on the stage! Therefore, many of the lyrics were first draft, without time to go back and polish."
When Schwartz entered the scene, Mass wasn't fully shaped. Even though it was more of a concert piece, "Lenny wanted there to be a dramatic arc," Schwartz recalls. "I mostly worked with him on shaping the dramatic structure." He feels that "some of the youthful spirit of Godspell influenced the content of the piece and the character of the Celebrant that Lenny and I devised."
Schwartz's contributions to Mass include lyrics for songs within sections:
I. Devotions Before Mass: "A Simple Song"
IV. Confession "I Don't Know" and "Easy"
VI. Gloria "Thank You"
VIII. Epistle "The Word of the Lord"
IX. Gospel-Sermon "God Said"
X. Credo "Hurry" "World Without End"
XIII. The Lord's Prayer "I Go On"
XVI. Fraction "Things Get Broken"