Your Internet resource page for The Baker's Wife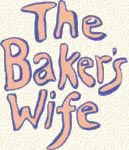 The Baker's Wife features music and lyrics by Stephen Schwartz;
Book by Joseph Stein
In addition to the information provided here, the page contains affiliate links. If you make a qualifying purchase after clicking on a Musicnotes, Amazon, or Sheet Music Plus link, we receive a commission, which helps support this independent website. #Ad.
Biography and Memoir chronicle The Baker's Wife's behind-the-scenes story
Musical theatre enthusists who hear the show's cast album frequently ask themslves: "Why did The Baker's Wife flop when it was headed to Broadway?" Two books cover the show's rather dramatic history: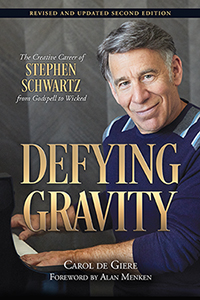 1) Stephen Schwartz biography 2nd Edition
In the chapter on The Baker's Wife in Defying Gravity: The Creative Career of Stephen Schwartz, from Godspell to Wicked, you'll find out not only what the creative team of Stephen Schwartz and Josphen Stein have concluded, but read for yourself the ins and outs of the difficult pre-Broadway try out experience. The chapter takes readers inside the creative and collaborative issues. It also explores the creative triumphs for the development of such pieces as "Meadowlark" and "Proud Lady."
To write the chapter, author Carol de Giere interviewed Stephen Schwartz and Joseph Stein; cast members Carole Demas, Kurt Peterson, and Teri Ralston; the final music director Bob Billig; and publicist Josh Ellis. They are all quoted in the book. Photographs in the chapter on The Baker's Wife include original cast members Topol, Patti Lupone, Kurt Peterson, and others, as well as Stephen Schwartz and Joseph Stein.
In the Revised and Updated 2nd edition, the author included Schwartz's comments on the long journey toward a refined and revised version of The Baker's Wife.

2) Patti LuPone: A Memoir (Amazon.com)
Patti LuPone poignantly tells the personal story of her experiences in The Baker's Wife in chapter 5. She provides an actor's perspective of being in a show in trouble on the road. She doesn't hold back in her revelations about her co-star Topol.
Recordings
Music CDs
The Baker's Wife

[Original 1990 London Cast], Jay Records UK, 1999 Buy The Baker's Wife [new browser window]


Includes: Chanson, If It Wasn't For You, Merci Madame, Scene, Bread, Gifts of Love, Plain and Simple, Proud Lady, Look for the Woman, Serenade, Meadowlark, Buzz-a-Buzz, Opening, Any-Day-Now-Day, Endless Delights, The Luckiest Man in the World, Feminine Companionship, If I have to Live Alone, Romance, Where is the Warmth?, Scene Pompom's Return, Finale

The Baker's Wife

[Original 1976 Broadway Cast], Take Home Tunes, 1997 The Baker's Wife [Original Soundtrack] [new browser window]
Includes: Chanson, Merci Madame, Gifts of Love, Proud Lady, Serenade, Meadowlark, Any-Day-Now-Day, Endless Delights, If I have to Live Alone, Where is the Warmth?, Finale

The Baker's Wife Songs on Albums by Various Artists

"Meadowlark"

"Chanson"

"Proud Lady"

Broadway star Matt Bogart sings Schwartz's piece "Proud Lady" and the beautiful Bernstein/Schwartz number from Mass "Simple Song" on his new album Simple Song

"Gifts of Love"

Alix Korey - Gifts of Love - (1997 - AD CD020)

"Where is the Warmth"

"With You (Pippin)/Gifts of Love (The Baker's Wife)"

The Baker's Wife Sheet Music

1. Selections Selections from The Baker's Wife: A...(Opens new browser window to Amazon.com [new browser window]. Includes "Meadowlark" (Scored For: Piano/Vocal), "If I Have to Live Alone," and "Where is the Warmth"

2. The 292-page Stephen Schwartz Songbook includes The Baker's Wife sheet music and others as Stephen plays them. "Chanson," Gifts of Love," "Meadowlark," "Proud Lady," "Where is the Warmth."The Stephen Schwartz Songbook

Articles

Joseph Stein and Stephen Schwartz Joseph Stein and Stephen Schwartz collaboration

The professional production at Paper Mill Playhouse April 13- May 15, 2005, directed by Gordon Greenberg, now serves as the model for an ideal version of the show, according the show's creative team. It included changes made to the show for a 2002 version in Connecticut, and further revisions. The superbly staged production helped renew interest in this charming musical.

See The Baker's Wife Synopsis with photos from The Paper Mill Playhouse production.

Stephen wrote about the production: I am extremely happy with the beautiful production at Paper Mill, and I'm glad you were enthusiastic about it as well. Joe Stein and I are, I think understandably, very pleased that after so many years and so much effort, the show is finally done! We both feel this is the final version, and are delighted it has been so well received.

A brief history of the show's development.

The Gifts of Carole Demas - Carole Demas was the first "Genevieve" in the Broadway-bound production of 1976.

"Meadowlark" lyrics and reviews

"Chanson" lyrics & history A full page about Chanson.

"Proud Lady" lyrics and history - A full page about Proud Lady.

Read about original cast member Kurt Peterson

The Baker's Wife black and white film version (non musical)

The Baker's Wife - black and white movie (not a musical) (The musical was adapated from this 1940 Marcel Pagnol film. In French with English subtitles.)

Licensing The Baker's Wife for performance

Music Theatre International provides a detailed description and ordering information for the production.
MTIShows.com