Stephen Schwartz - Broadway and Film Composer and Lyricist
The Career of Stephen Schwartz, biography, interviews, awards, photos
PHOTO: In Broadway's Gershwin Theatre upstairs lobby, American composer Stephen Schwartz stands beside his name after his induction into the Theatre Hall of Fame, January 25, 2010. Photo by Michael Cole.
Stephen Schwartz Current projects
He is working on the Wicked movie and other projects. Keep up with his activities by following "The Schwartz Scene" page on Facebook and visiting The Schwartz Scene site at TheSchwartzScene.com
ON THIS PAGE
with a FOREWORD BY ALAN MENKEN
Defying Gravity: The Creative Career of Stephen Schwartz, from Godspell to Wicked, now in its 2nd edition, is the only biography of this award-winning Broadway and film composer-lyricist. READ MORE - DEFYING GRAVITY
Also available through the above link: Rare autographed copies the first edition of Defying Gravity, signed by Schwartz and author Carol de Giere, are available.
Overview: Stephen Schwartz Biography (short list)
Songwriter Stephen Schwartz started his career by writing music and new lyrics for Godspell. Next he wrote music and lyrics for Pippin and The Magic Show. When Godspell moved from off-Broadway to Broadway in 1976, Schwartz then had three successful shows running on Broadway at the same time.
His songs on the cast albums for The Baker's Wife helped keep the show in motion ever since it failed to reach Broadway in 1976. Children of Eden is his second most popular show for regional theatres. He co-adapted Working and wrote lyrics for Rags - a show that has since been completely revised and can be heard on a new London cast album.
Working in Hollywood, he wrote lyrics for the songs for Pocahontas (movie), The Hunchback of Notre Dame (movie and stage), songs for The Prince of Egypt - (movie and stage). He won two Oscars for his work on Pocahontas (including Best Song "Colors of the Wind" and his contribution of lyrics to the score) and one for The Prince of Egypt's song "When You Believe."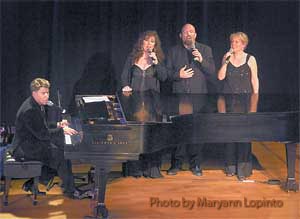 Schwartz's musical Wicked is a hit on Broadway, on tour, and internationally. Read all about Wicked. While working on Wicked, he wrote what he believes is one of his best songs, "For Good", a piece that is now often used for graduations, memorial services, and friendship-related events.
Stephen Schwartz and Friends" in Concert. Photo by Maryann Lopinto.
In 2006, Schwartz worked in collaboration with Alan Menken for Enchanted. Disney's Enchanted, and he completed Geppetto and Son, a stage version of his Disney TV movie Geppetto. The show was later renamed Disney's My Son Pinocchio. His first opera premiered in 2009. Schwartz's opera - Seance on a Wet Afternoon.
Other work includes songs for a Hans Christian Anderson celebration--a musical called My Fairy Tale. His family musical, Captain Louie ran twice Off-Broadway, toured the USA, and is now being made available for local groups to perform. An album of his first Princess Cruise musical Magic to Do was released in September 2016. See More Schwartz songs for others.
From 2009 to 2015 Stephen Schwartz served as the president of the Dramatists Guild of America, the national association of playwrights, composers and lyricists. His honors include three Academy Awards, four Grammy Awards, four Drama Desk Awards, a special Tony Award, and others. He has been inducted into the Songwriters Hall of Fame and Theatre Hall of Fame. See Awards page for more details.
In 2014 hefinished lyrics for a new stage production of Disney's The Hunchback of Notre Dame. His new musical Schikaneder opened in Vienna in 2016. The stage adaptation of the DreamWorks movie The Prince of Egypt opened on London's West End in 2020.
Schwartz wrote a choral piece for the San Francisco Testimony and has other projects in the pipeline including a new movie project with Alan Menken (not for Disney).

PHOTO to the left is Stephen Schwartz in his office as part of an interview session on Wicked's musical themes.
Stephen Schwartz Personal Life and Musical Training:
Stephen Schwartz was born in New York City on March 6, 1948. He primarily grew up in Roslyn Heights on Long Island, and started attending Broadway shows when he was nine years old. It was love at first sight. From then on he wanted to compose for Broadway.
His parents bought a piano when he was seven, and he took lessons locally. Then after an audition, the Juilliard School of Music accepted him in their preparatory division for their classes in piano and composition.
While studying for a BFA in directing from Carnegie Mellon University, he wrote songs for original msuicals each of his four years there. These shows were staged as part of the "Scotch 'n' Soda" club, an extracurricular student-run club. He was also involved in summer stock productions as a teenager. Therefore, by the time he wrote his first professional score, Godspell in 1971, he was experienced with the process of writing original work and staging other people's shows.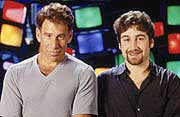 He settled in Connecticut shortly after Godspell became a hit. It serves as home base and a place to compose, although he travels frequently for work on various productions. Mr. Schwartz is married to Carole Schwartz. They have two children, director Scott Schwartz and art teacher Jessica Schwartz. His main hobby (besides playing music and attending shows) is tennis. [Photo - Stephen with his son Scott in 2001]
Schwartz lives in Connecticut and has an office/studio/city apartment in Midtown Manhattan. He spends much of his time traveling for theatre activities, composing, conducting ASCAP workshops, giving concerts, and playing tennis.
He generally composes at his piano in Connecticut. For scoring music, Schwartz is now using Sibelius software at home. Avid Software Sibelius v. 7
The recording specialist with whom he works uses Logic for recording and multi-track sequencing.
Stephen Schwartz News
Find out where to meet Songwriter Stephen Schwartz in person and keep up with his activites
MusicalSchwartz.com's free email newsletter The Schwartz Scene offers updates written by Stephen Schwartz about his activities, plus much more.
Stephen Schwartz Interviews and Articles
See biographer Carol de Giere's media page for links to podcast and video interviews with Stephen Schwartz.
The Huffinton Post music writer Mike Ragogna published a detailed interview with Schwartz in Feb 2016, covering career efforts and interests. Schwartz on Huff Post

movie documentary --ShowBusiness: The Road to Broadway--features Wicked and Stephen Schwartz. Visit: Wicked in ShowBusiness for photographs, details, and ordering information. The clips are from 2003 and 2004 as Wicked opens and with the approach to the Tony Awards. It also includes comments on Avenue Q, and two other shows.
Stephen Schwartz video interview - Godspell, Wicked, Wicked movie, and more.
This 20-minute video recorded in September, 2011, covers a range of topics Broadway.com Stephen Schwartz career interview and includes references to the biography, Defying Gravity. Schwartz talks a little about the future Wicked movie and mostly about what it's like to have a career like his.
More about Stephen Schwartz's career
For a detailed article about Stephen's career (several pages long) see Stephen Schwartz Career article on this site, used with permission of Cabaret Scenes magazine. It includes photos. The article begins: The career of Stephen Schwartz took off almost from the moment the composer/ lyricist was graduated in 1968 from Carnegie Mellon University. In 1969, he wrote the title song for the Broadway comedy Butterflies Are Free, which then was turned into a Columbia film. It might even be fair to say his star was in its ascendancy even before he was graduated, since Pippin, a musical he wrote for the college theatrical society, would hit Broadway big time just a few years late....
Stephen Schwartz's musical influences - What musical influences have helped inspire Schwartz's style? See this article about his history and musical loves based on Carol de Giere's interviews with the composer.
Stephen Schwartz Cut Songs - Stephen calls his cut songs "Murdered Darlings" or Orphans - songs that didn't fit in musicals. Based on Carol de Giere's interviews with the composer.
The Music of Godspell - Includes material from a group interview conducted by Carol de Giere and several musicians, June 2005
Wicked's musical Themes - Includes material from a group interview conducted by Carol de Giere and several musicians, from October 2004
If you are a composer, lyricist, book writer, or in any way involved in writing musicals, see Stephen Schwartz's writing tips. For example here's an answer to most frequently asked question: Which comes first, music or lyrics: "Many people often ask whether music or lyrics come first in writing a song, but if I'm doing both words and music, the answer is that I take the path of least resistance. That can mean either music first, or part of a lyric, or an accompaniment figure. In almost every case, though, I like to start with a title -- not always, but usually -- because it helps to define the landing place of the lyric and the feel of the music. " -- Stephen Schwartz. For more Q and A about Schwartz's writing ideas see Stephen Schwartz's writing tips on Musicalwriters.com
Schwartz songs appear on dozens of CDs by recording artists. His work is also featured on the highly recommended Stephen Schwartz album, Reluctant Pilgrim, and Uncharted Territory.- Read about Schwartz recordings.
Stephen Schwartz was one of many people interviewed for a documetary on Frank Loesser. Towards the end of this video clip, he talks about Loesser's talent. from Frank Loesser Documentary
Note for those arriving at this site by search engine. The name of composer Stephen Schwartz is sometimes misspelled Steven Schwartz or Stephen Swartz. Before about the mid 70's he was known as Steve Schwartz. He considers himself a "writer" as in songwriter, lyricist, writer of music and of shows because he is involved in every detail of the story even when there's a book writer.