Captain Louie Album

Read about the musical Captain Louie
Buy Captain Louie world premiere recording at Amazon.com: Captain Louie (2005 Studio Cast)
OR the record label's website: psclassics.com - Captain Louie CD
Feature article: Soaring with Captain Louie - Recording Day 2005
A new Stephen Schwartz album in the making
Captain Louie CD song list
1. New Kid in the Neighborhood
2. Big Red Plane
3. A Welcome for Louie
4. Shadows
5. Trick or Treat
6. Looza on the Block
7. Spiffin' Up Ziggy's
8. Captain Louie
9. Home Again
10. Finale
Inside the Captain Louie Recording Session
Soaring with Captain Louie–
Recording Day 2005
By Carol de Giere
Published for The Schwartz Scene issue 19. Copyright by Carol de Giere
As I stepped into the cool gray March evening to catch a train, Manhattan seemed a happy island. I had just witnessed a Captain Louie recording session held on the 6th floor of a high rise building on 37th Street. The session was summer beach-like, appropriate given the studio's name: Manhattan Beach Recording. I remembered watching the control room floor as composer Stephen Schwartz in his white sneakers paced over the wide planks of the wood that looked like a boardwalk by the ocean or a ship's deck. Few moments that season were as warming to me as when I listened to the young performers sing Stephen's upbeat songs. Fortunately, after the tracks are all carefully mixed, lasers will be able to etch some of the sunshine into compact discs of Captain Louie.
I started watching the recording session from the control room a little after 4:00 p.m. Through a giant window I could see kids congregated in Studio A, the adjacent soundproof room about nineteen feet wide by thirty feet long beneath the foam ceiling. The walls, according to their studio's website, are "custom designed stone and wood surfaces, offering one of the most sought after room sounds in the metropolitan area." Who knew? Recording artists like Carly Simon and Norah Jones preserved their music in that cozy space. The day I came to watch, the Captain Louie album singers would record about half of their group numbers, starting with the opening number, "New Kid in the Neighborhood."
The group of ten young performers, ages ten to twenty-seven, bubbled with conversation at the far end of the studio. They had been selected from a pool of about two hundred talented actors after several weeks of auditions and call backs. All had extensive musical theatre or performance experience; most had performed professionally Off-Broadway, and two of them on Broadway. What mattered to them was having fun and staying on their toes vocally when standing behind one of the four microphones spread across the back of the room.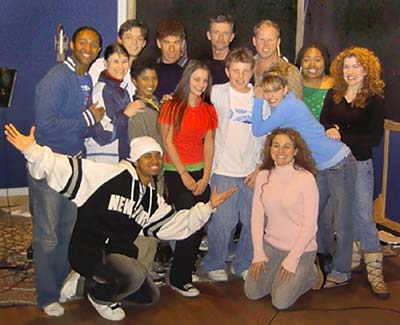 Photo: Captain Louie Singers with Stephen Schwartz,
Ed Barnes, Michael Cole, and Meridee Stein
(recording day 2).
Meridee Stein had a stake in the performers behaving themselves. The petite director-producer could shush them or inspire them as need be from her perch on a stool by the piano. She had donned a blue running suit for the long hours of the recording sessions, and pulled her dark brown hair back in a ponytail and out of the way. She needed no paperwork, knowing the songs they were recording by heart, and could keep her full attention on the performers. Captain Louie had been her baby since 1981 when she conceived its first incarnation in a thirty-minute show called The Trip. It was her idea to commission Schwartz for the songs and invite her husband Anthony Stein to work with him as book writer in their adaptation of an Ezra Jack Keats picture book by the same title. The three of them worked together again in 2002 to rework The Trip into Captain Louie, a one-hour family musical complete with subplots and character development. In many ways, the current recording session and upcoming Off-Broadway production were riding on the power of her dream to make Captain Louie a professional/commercial musical theater success that would, as she says, "bring the joy of this musical theater piece to children and their famlies everywhere."
The show's storyline follows the journey of young Louie who misses his old friends, and sets off for his former neighborhood in his toy red plane. When he arrives, his friends surprise him in their Halloween costumes. As "Captain" of his plane, Louie takes them for a ride over the city. Eventually he returns home on a Halloween night in his new neighborhood, freshly encouraged to begin making new friends.
It was a story of a lonely boy wanting to fit in somewhere, and reminicent of other misfit tales of the type that have touched Stephen Schwartz (think of Pippin in Pippin, Quasimodo in The Hunchback of Notre Dame, and Elphaba in Wicked). He was inspired to write music and lyrics for ten songs.
What mattered to him for the weeks he would be recording and mixing the piece was making his new musical's recording sound natural, rich, and child-like. "It needs to sound like kids, not twenty-year-olds," he explained. The singers were skilled and precise, and could hold their own notes even when standing next to actors singing other parts. But they were so professional, Schwartz was concerned it might sound too slick or too much like a formal chorus when it needed to sound more freshly spontaneous, like a pell-mell frolic of trick-or-treaters who happened to sing really well.
Stephen spent most of the afternoon pacing around the control room where he could press a "talk-back" button and be heard by the gathering in the studio. He worked with the engineer on which "take" to keep. He was often sipping tea and listening for what he wanted. Schwartz played a double role that day, as he did with almost all his previous cast albums. Not only was he representing himself as songwriter, but he also helmed the recording session as record producer. (He would continue attending to every detail during the upcoming mixing sessions). His face was tan, having performed a concert in Barbados around his fifty-seventh birthday a few weeks earlier. He wore black jeans and had pushed up the sleeves on his beige cotton knit shirt in "let's get down to business" mode, exposing his tanned hands and forearms. His eyes rarely met anyone's gaze while he focused on what he was hearing. But he was personable in his commands and quick to praise the performers.
Jimmy Dieffenbach was the sandy-blonde young man who played the lead role of "Captain Louie," as he had for two previous readings. The actor had spent the earlier part of the day recording his solo spots. "Jimmy walked in and nailed everything," Schwartz said in a tone of awe and respect. "You're the best," he told Jimmy later when he'd been asked to repeat a line and did it well.
The Captain Louie singers warmed up their voices in the studio while awaiting the late arrival of an actor whose taxi was caught in traffic. Stephen took a break and sat beside me for a few minutes to consume half of his deli-prepared cheese sandwich. I asked about the previous day's instrumental recording. In today's session, the singers would hear yesterday's instrumental part on their headphones and sing to it. It was all carefully planned and totally foreign to me. I said to Stephen: "I can't imagine what it's like to think in terms of laying down layers of music."
"Well I've been doing this since I was twenty," Stephen replied. He was obviously happy that a flair for recording technique had shown up among his many talents. Layering of sound was his art here, as a painter layers oils on canvas. He drew from his experiences for his Grammy-winning Godspell and Wicked albums, among others, and made remarks to Danny Lawrence, the recording engineer, in their shared language of tracks, takes, cuts, mixes, mics, and "cans" – the word for headphones in the studio.
When the last singer arrived, I followed Stephen into the studio where he took time to speak to the young people as he might any adult cast, explaining about multiple takes. Music director Ed Barnes remained with the performers to conduct from the grand piano, while Schwartz called the shots from behind the glass. Lawrence tapped at the computer keyboard to set things up and started the digital clock: two-inch tall green numerals spun off the seconds.
At first, they did short takes of segments until they could get it right. The opening number contrasts Louie's glum mood with cheerful childhood sounds as if heard on a playground: jump rope chants, hide-and-seek game calls, and sports calls.
Jimmy sang in a slow, melancholy way:
Sittin' on the curb
Starin' at the wall
Nothin' much to do
When you're the new kid
New kid in the neighborhood…
A girl named Sara cheerily sang out to her girlfriends:
I declare war on South Dakota…
A few unsung lines come next – the sounds of kids playing around but ignoring Louie:
"Race you to the corner…"
"Go out short and button-hook…"
Several girls harmonize on:
One potato, two potato, three potato…
Five potato, six potato, seven potato…
Stephen pushes the button to be heard and stops them. "It needs to be more natural," he says. "Not po-ta-toe as you would on stage." He pronounces it casually as we normally would, "Potado."
They try a new take from the top. When Stephen turns towards the adults hanging out on the couch behind him he is smiling. "They sound so good, don't they?"
During the next pause Stephen talks to a singer about a line that is petering out at the end. A girl explains, "We're not breathing." She and the composer sing the jump rope chant quietly to test it for a pause for a breath:
"A" my name is Alice
My brother's name is Alan
We come from Alabama
And we sell artichokes…
Stephen says, "I don't see where to breathe. Sorry – bad writing. I'll have to speak with the composer." He smiles. "Just take a big ol' breath and do it."
They try it again. "Perfect," he says.
The chorus chimes in with emotion-laden harmonies to support Louie's feelings:
And the stores look unfamiliar
And you wanna run until you're…
Louie continues:
…On your old street
Where you would know ev'ry face you meet…
They pause again. Stephen notes, "It's 'yer' not 'you're.' Make it rhyme with familiar."
When the song is complete, he pushes the button to tell them how pleased he is. "Excellent. That's a take."
As the afternoon proceeds, the group sound is collected from the four microphones, ready for later mixing with instrumental and vocal. He continued tweaking what he heard as the kids sang "Big Red Plane," and other numbers. "Try and sound younger. Keep it high – whatever." And later: "I'd like it really breathy." "Breathy" has been his term through the decades for coaching casts in a type of studio sound that's different from stage or choral group. Here he demonstrated to the kids by singing one of his lines opera-style, to show them what he didn't want: "I'm hearing '…Like your breath on a winter morning.'" They seemed to get the picture because at the end of a take he pushed the button so the singers could hear him say, "You guys are fantastic. You're going to be pleased."
Schwartz asked the kids, "Should we do 'Captain Louie' or the 'Finale'?"
With a resounding cheer they shouted, "Captain Louie!" I understood their eagerness to sing it. Musically Stephen Schwartz somehow built "Captain Louie" like a plane capable of carrying audiences with it as the melodies and harmonies soar over the airwaves. It is a rocking gospel-styled song complete with call and response, as in "Look up above you" sung by one group and the response, "Ev'rybody look up," by another. It's a kind of "Halleluiah, we're flying!" sensation.
During the first take Stephen realized another way he could paint with sound. Waving his yellow legal pad towards the window at the kids he said, "We'll do melody track and then backups. Just like we were doing Godspell."
In the control room he tells the engineer, "I'm going to break it down. Echoes [responses] will be in a new track."
The plane prepared for take off. In the control room, Pam Koslow and Kurt Peterson, Meridee's producing partners, join me in standing behind Schwartz to watch through the window.
Louie:
…"Captain Louie" at your service
The aviator ace
As long as you're with me, ........