Children of Eden
at Seacoast Repertory Theatre
Notes from Jacques Stewart, Director and Choreographer
(Seacoast's Children of Eden production ran April 20 - May 21, 2000)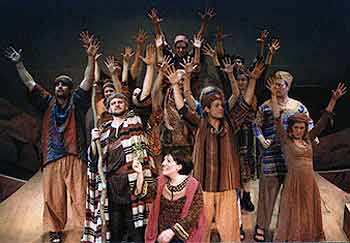 d1
Stephen Schwartz (Composer, Tony, Grammy, Oscar nominee and winner) started professional theatre work in summer theater as Musical Director at the New London Barn Playhouse (New Hampshire). He attained early Broadway success with GODSPELL, PIPPIN, critical achievement with THE BAKER'S WIFE, and late career fame with POCAHONTAS and other Disney work. His compositions have always told stories to all audiences of all ages. CHILDREN OF EDEN is no different.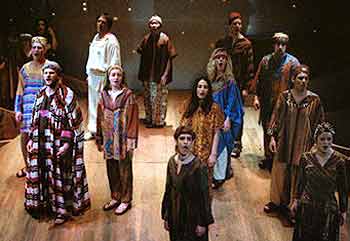 d2
Storytellers do the telling with pop Broadway songs in country rock style. In musical theater history, this score follows by ten years the bible school operetta of JOSEPH AND THE AMAZING TECHNICOLOR DREAMCOAT and predates by nearly five years the ethnic pop fable of ONCE ON THIS ISLAND. The CHILDREN OF EDEN score enjoys a generous borrowing from Schwartz's own best efforts: the biblical setting and playfulness of GODSPELL, the humor and conflicts of PIPPIN, the complexity of emotions and darker underpinnings from THE BAKER'S WIFE. But finally it realizes its own structure, style and aesthetic. And like all successful musical theater it is built on a relationship between content and music. One needing the other to achieve the higher reward of entertainment: joy, sorrow and learning.
CHILDREN OF EDEN went through many gestations, opening on the eve of the Gulf War and dying an untimely death in London. The major re-stagings done with Schwartz's personal collaboration have resulted in a mixed response. The show's reincarnations in Virginia, Los Angeles, and most notably the Paper Mill Playhouse in New Jersey (the cast compact disk is of this production) have proved to be large-scale shows of truly 'biblical' proportions but they also have had a bookish and unintended weightiness. Each choosing to feature massive choruses, thundering voices and "stars" hired to sing all the prominent roles from beginning to end. However, smaller regional productions around the country (recently at the Weathervane Repertory Theatre New Hampshire) have enjoyed enthusiastic responses from both theater professionals and audiences. In these more intimate settings, the material has been treated in a new way communicated with a simple storytelling vernacular and warm inclusionary theatrical style. And this Seacoast Repertory stage is just such a setting.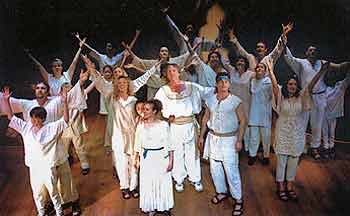 d3
One pitfall about Bible based musicals such as JESUS CHRIST SUPERSTAR and GODSPELL is they don't hold any plot surprises for most of us. The stories so often told. The conclusions so well known. And so it is for CHILDREN OF EDEN and its main characters of Adam, Eve and Noah. But what is explored in this story is a plain and evident connection between these storied figures and the people they must have been, or might have been when seen by this modern world and its cynicism and belief systems. This is what makes CHILDREN OF EDEN special for me...the realizing of the people and personalities of these icons of religious idealism. Who they are. What they feel. Adam, Eve, Cain, Abel, Noah, Japheth Yonah. Pretty heady characters, but tonight they are Eden's children changed by love, loss and lessons in life. Why even God is penetrated by wishes, and worries, and anger, and calm. And get this: He learns from his children. This is what makes CHILDREN OF EDEN special. It is a musical about a family, an extended family, a human family we all belong to, in a world we all share. Jacques Stewart, Director and Choreographer, Copyright, April 2000