Wicked the Musical Costumes
Susan Hilferty and Her Designs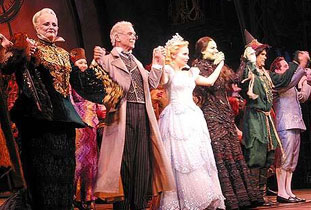 Wicked's Ozian Costumes
Susan Hilferty's original sketches for Wicked the musical costumes were done in gouache - a kind of paint or pigment suspended in water that resembles a rough watercolor. In Wicked: the Grimmerie, see 17 gouache images with costumes for Elphaba, Glinda, Chistery, Madame Morrible, student fashion at Shiz University, Emerald City citizens, and more.
Chapter 4 part III of Wicked: the Grimmerie, "Dress for Success" - Pages 118 - 127 features color photos and copies of original sketches for Wicked the musical costumes, plus a 2-page article in which designer Susan Hilferty writes about her costume development process. Wicked: The Grimmerie -Amazon.com. The Stephen Schwartz biography, Defying Gravity, covers stories of Wicked's development, including the costumes and controversies. Ever wonder why there are no "ruby slippers" in Wicked? Find out in Defying Gravity.
Costumes for Elphaba and Glinda
Susan Hilferty was influenced by Dr. Seuss for the design of Oz costumes, especially for the Emerald City. "The vocabulary and tone came partly from the Denslow illustrations from 1900," Hilferty says, referring to the drawings by W. W. Denslow in the original The Wizard of Oz books.
...At School - Shiz University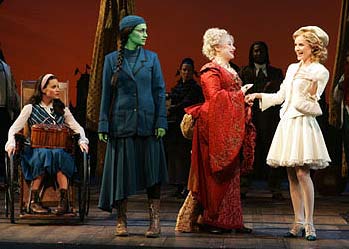 In the above photo by Joan Marcus, Elphaba's sister Nessarose in the wheelchair shows the school colors for Shiz--a blue and white design. Elphaba is in dark blue, Morrible in red, Galinda/Glinda in perky white. Costumes help describe their personalities and the central characters' emotional journeys.
Hilferty explains in an Entertainment Design magazine article that she combined the Shiz University colors of white and blue for the ensemble outfits and used the colors individually for Glinda and Elphaba. "What I was trying to get at the end was an icon for each of them, where they become specifically representative: Glinda for goodness and Elphaba [who publically represented the Wicked Witch of the West] for evil. By using blue and white as the school colors, I was able to have Elphaba all in blue, and Glinda all in white. The goal was to make the two women be the most outstanding thing in every world they entered." Later she used pink for Glinda's party outfit.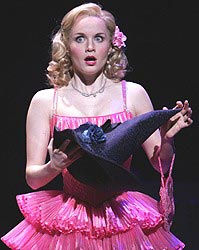 Emerald City.
Here is a close up of Elphaba's dress - note the subtle texture. Even the green glasses were Hilferty's design.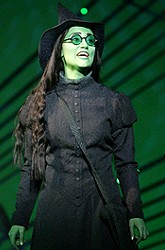 ---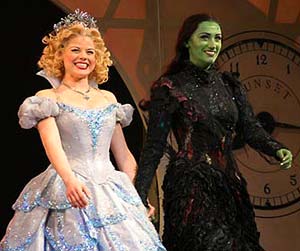 Act II costumes: Here is a close up of final scene costumes for Elphaba and Glinda. Megan Hilty and Eden Espinosa stepped forward to speak during the curtain call after the 1000th performance of Wicked. Each costume was built individually beginning with a muslin pattern that is fitted to the actor. Special New York costume houses completed the costumes.
On the left is the "bubble dress" also used when Glinda first descends in her bubble. Elphaba's highly textured gown is thickly layered with fabric folding back onto itself. Here the costumes must represent the two character's complete development into the famed Good Witch and Wicked Witch of the West.
Susan Hilferty explains that there are 25 different kinds of sequins used on Glinda's Bubble dress. The fabric for Elphaba's Wicked Witch bodice is not actually one fabric. It is as many as 20 different fabrics, cut into pieces no bigger than 3" and quilted together. Each dress is completely unique.
Hilfterty says she thinks of the Glinda outfit is related to air with Elphaba's as relating to earth. The Glinda gown was intended to appear like a wedding dress or every 10-year-old girl's fantasy of a princess outfit.
When Wicked is prepared for productions in other locations, the exact costumes and wigs are replacated, although fitted for the appropriate actors. Wicked's Australian producer, John Frost, said in an interview, "There's 450 costumes and 90 wigs... It's a massive undertaking." [i.e. costume pieces including shoes]
Photos of Wicked are by Ben Strothmann for BroadwayWorld.com, used by special permission, or by Joan Marcus.
Finding Costumes for Halloween or Costume Parties
Amazon.com Costume Store
- Search on "Glinda" or Witch to find costumes in all sizes. Dorothy, scarecrow, etc.
GREEN MAKEUP! Here are a few options
Fascinating Wicked Costume Facts
There are approximately 263 costumes constructed for each new production of Wicked based on 180 unique costume designs (duplicates of some costumes are made for understudies and others).
What covers the feet of the actors? One or more pairs from the 240 pairs of handmade shoes for each new production of Wicked.
As many as 250 artisans and craftspeople in the US and overseas work on a new production of Wicked.
The ruffles in the skirt of Elphaba's Wicked Witch dress require 40 yards of fabric to complete.
There are 20 shades of Elphaba green skin (although we only regularly use a few).
It takes half an hour for Elphaba to "greenify" every night.
The fabric for the Shiz uniforms was designed by Susan Hilferty exclusively for Wicked and is custom printed in Milwaukee, Wisconsin. No two "uniforms" are alike.
It takes 424 manhours per week to maintain the costumes for Wicked on Broadway.
There are a minimum of 6 loads of laundry for every performance of Wicked.
Costumes for Madame Morrible and others
For a close up of a Madame Morrible costume see Wicked Characters | For a close up of the goat costume for Dr. Dillamond see Wicked Animals page
More photos will be added later (or look at the photos on the official sites).
Costume Designer Susan Hilferty photo, bio, about the costume development, Sketches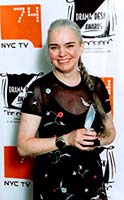 SUSAN HILFERTY - For her website page about Wicked's designs, with sketches, see Susan Hilferty - Wicked
Costume Designer for Wicked, has designed over 300 productions for theatres across America and internationally. Her numerous awards include 2004 Tony, Drama Desk and Outer Critics Circle awards for Wicked. This photo (left) is of Susan after receiving the Drama Desk award.
Her directorial collaborators include Athol Fugard (set, costumes, co-director), James Lapine, Robert Falls, Robert Woodruff, Joe Mantello, JoAnne Akalaitis, the late Garland Wright, Mark Lamos, Frank Galati, Des McAnuff, Sharon Ott, David Petrarca, Richard Nelson, Chris Ashley, Marion McClinton, Laurie Anderson, Tony Kushner, Carole Rothman, Mark Linn-Baker, Garry Hynes, and Emily Mann. Recent work: Assassins, Into the Woods (Hewes Award,Tony nomination) Lapine's Fran's Bed, Jitney, Dirty Blonde, Alvin Ailey Love Stories and Rodney's Wife. Currently: Elton John's Lestat, Manon LA Opera, and August Wilson's new play Radio Golf.
She designs opera, film, TV and dance and chairs the Department of Design for Stage/Film at NYU Tisch.
About Susan Hilferty's Costume Designs for Wicked
The creative team and producers of Wicked were very smart to invite Susan Hilferty to design the show's costumes. Over 200 costumes, wigs, shoes, and accessories in Wicked all sprang from the imagination of the designer. Wicked's award-winning costumes play a huge role in conveying the show's themes to the audience.
"My goal was to create a third world, a world that we considered to be a parallel universe," Hilferty told Entertainment Design magazine. "It's a world where animals can talk, so we know it's not our world. It's a world that deals with a kind of inventiveness, things that we might call magic. The boundaries of the world are different than anything we know or are familiar with, but at the same time, the issues for the people of this world of Oz are in many cases the same kind of issues we deal with. So I knew it had to be something that was of the imagination but in some ways had to thread back to things that we knew."
More about Wicked
Costume Design Books
Want to read more about costume design? Here's some recommended reading. Descriptions and links are from Amazon.com.

The Magic Garment: Principles of Costume Design
by Rebecca Cunningham
Comprehensive, clear, well-illustrated, and concise! This outstanding volume provides a systematic overview of the process of costume design for the stage, presenting beginning designers with the fundamentals upon which to build their costume skills. From styles of visual presentation and the use of fabric and materials, to developing skills in research, conceptualization, interpretation, and organization of budgeting, shopping and scheduling, The Magic Garment enables readers to develop an understanding of and appreciation for the process of costuming a production. Readers are exposed to a broad range of theatrical literature through illustrations, references in the text, and pertinent quotes from plays. They are also taught how to analyze plays from the costume designer's perspective. In addition, readers learn how to draw and render costume sketches and how to apply different design principles to specific types of costumes. The costume designer's art lies in effective interpretation, collaboration, and execution. The Magic Garment makes this process accessible and, with lively detail and a wealth of illustrations, brings the exciting world of costume design to life.
Designing Stage Costumes
by Gary Thorne
An illustrated, hands-on guide to designing costumes for the stage, aimed at students and amateurs as well as professionals.

Costume Design
by Barbara Anderson, Cletus R. Anderson
The second edition of COSTUME DESIGN provides a basic introduction to costume design and takes students through the entire process of costume making, beginning with the idea for a costume to the final fit. The text is thoroughly illustrated, providing guidelines for the student for creating the figure and the costume design, examples of many styles of costume presentation, a guide to historical costume shapes, and scale drawings of the basic historical patterns with photos of them made up in muslin. Many theatre departments require all theatre majors take a course in costume design.
Elegantly Frugal Costumes: The Poor Man's Do-It-Yourself Costume Maker's Guide
by Shirley Dearing
This wonderfully practical book literally shows you how to make costumes for plays, pageants and musicals at the lowest possible expense! Over 150 detailed illustrations work with the easy-to-follow text to walk you through every step of the process. Just about every basic period is covered: Biblical to Medieval, Renaissance, Angels, the Fabulous Fifties, 1800s to World War I, The Roaring Twenties and more. Many helpful hints on making or buying realistic period theatrical costumes on a shoestring budget from cast-offs, donations, scraps, and other easily-obtained materials. Also included are "special effects" costumes, helpful hints for getting into and out of costumes, and a glossary of costuming terms A book that will pay for itself with its first use.
Costume Construction
by Katherine Evans-Strand
This invaluable reference book leads the reader, step by step, through the stages of costume construction: from shop organization, pattern development, fabric selection and modification, to the more specific construction techniques for shoes, hats, masks, armor, and jewelry. It is intended for painters, pattern makers, drapers, artists, sculptors, milliners, seamsters, as well as those who enjoy handwork. Readers will learn not only the basic skills of sewing, drafting, draping, and millinary, but also all the techniques necessary for a successful career in the exciting world of costume crafts. Among its outstanding features, Costume Construction includes: (1) more than 300 illustrations, charts, and diagrams; (2) a comprehensive section on costume maintenance and storage; and (3) practical exercises at the end of each chapter
The Costume Book: The Non-Professional's Guide to Professional Results (Schiffer Book for Designers)
by Mary Burke Morris
This beautiful new book guides readers with intermediate to advanced level sewing skills toward the successful creation of costumes for theatrical or dance performances, and for re-enactments and interactive fiction. Nearly 250 beautiful color photographs and detailed line drawings of many types of costumes, along with solid design principles, provide a wealth of easy to understand information and how-to instructions. Practical tips concerning theatrical production teams, lines of authority, budgets, scheduling, and post-production storage of costumes are included. An annotated bibliography and a resource guide are both useful references.
Stage Costume: Step-By-Step
by Mary T. Kidd
Amateur designers--even those with little time or budget--will find practical guidance for creating terrific theatrical costumes presented in this resourceful book.
Costume designers will welcome the descriptions, measurement guidelines, cutting instructions and assembly directions. There are instructions for creating stage garments that evoke themes from the classical glory of Rome and Greece, 17th century Puritan lifestyles, the Middle Ages of nobles and commoners and modern 19th and 20th century styles. Includes four styles of uniform as well as pantomime dames and animal costumes.
Costume Design: Techniques of Modern Masters
by Lynn Pecktal
Character Costume Figure Drawing: Step-by-Step Drawing Methods for Theatre Costume Designers
by Tan Huaixiang
Review: "I am particularly pleased that the author addresses CHARACTER so heavily in her presentation of material. That is, after all, what plays are about." Madeline Ann Kozlowski, Emmy Award winning Costume Designer, Professor of Costume Design, UCI
Theatrical Costume, Masks, Make-Up and Wigs (The Motley Bibliographies, 4)
544 pages. Theatrical Costume is an indispensable reference for performing arts students, theatre, opera and dance costume designers, theatrical practitioners, historians, and picture researchers. This unique bibliography and iconography contains nearly 4000 detailed entries on separately published sources such as books, sale and exhibition catalogues, and dissertations, as well as an indexed record of over 6000 illustrations of performers in role, from the eighteenth to twentieth century. Other valuable resources in this volume include four detailed indexes covering designers, productions, performers, and authors in genres ranging from ancient Greek tragedy and commedia dell'arte to modern ballet and operas.
Color Costume Sketching with Gouache
Hilferty's colored sketches for the Wicked costumes were done in gouache. (Wikipedia article about Gouache)
Gouache supplies at Amazon.com
Painting With Gouache (Leisure Arts)
by Michael Sanders
The Acrylics and Gouache Artist's Handbook (Artist's Handbook Series)
by Sally Harper
Modern acrylics, which are plastic-based pigments, offer artists many of the same possibilities and effects as the more traditional gouache paints, which are opaque water-based pigments. This manual offers detailed instruction on creating paintings in both media. Titles in the new Artist's Handbook Series are designed for dedicated amateurs but will also by used and valued by professional artists. Each title in the series has a sturdy hardcover binding, allowing it to be taken out to the field as handily as it is used in the studio. The books' hidden spiral bindings keep pages lying flat, so students can work freely with their art materials without having to fight with their instruction manual. Each title supplements textual instruction with more than 400 color illustrations showing paintings in various stages of completion. There is detailed information on artists' tools, techniques, mixing colors, creating special effects, and trouble-shooting to correct errors. All Artist's Handbooks show examples of works by famous artists in the respective media to help students see how each medium has been used by world-renowned masters.