Snapshots: A Musical Scrapbook!
Music and lyrics by Stephen Schwartz, book by David Stern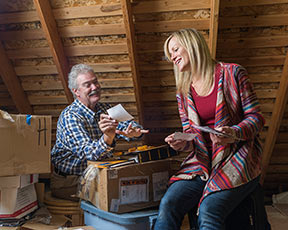 Snapshots is a touching new musical with songs adapted from Stephen Schwartz's catalogue. The story sets up a new context for 26 Schwartz songs from 12 shows in an integrated story. Six cast members include a couple, Dan and Sue, and two sets of younger counterparts: school-aged Danny and Susie, and young adults Daniel and Susan.
Schwartz and Stern continued to refine the show over the years and it is now available for licening. [PHOTOS: on this page: Photo 1: Hugh Hastings (Dan) and Beth DeVries (Sue). Snapshots Pre-Production photo. © 2015 Mark Kitaoka. Property of Village Theatre.; Photo 2, The cast of Snapshots, Snapshots Production photo.© 2015 Tracy Martin. Property of the Village Theatre, Issaquah, WA]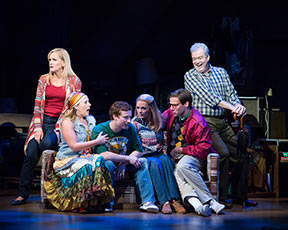 "Funny and bittersweet, Snapshots brings into focus all the wonders and frustrations of trusting your heart and believing your memories."
ON THIS PAGE
About Snapshots, Song List, Reviews
For licensing from Music Theatre International see MTIshows.com - Snapshots
Read about all the musicals in the show and their fascinating development stories in Defying Gravity: the Creative Career of Stephen Schwartz, from Godspell to Wicked, revised and updated 2nd edition (2018).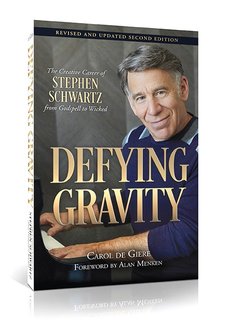 About Snaphots the Musical
Snapshots takes place in the attic of Sue and Dan, a couple whose marriage has fallen apart after 30 years together. Sue, who is about to leave her husband, has gone to the attic to retrieve a hidden suitcase when Dan unexpectedly comes home early. During this encounter, a box of photographs falls to the floor and leads them to relive the memories of their past selves captured in the snapshots.
Background
Bookwriter David Stern brought Stephen Schwartz the idea of using a compilations of Schwartz songs to create a musical scrapbook of a couple's life. Mr. Schwartz was intrigued by the notion, and gave permission for the concept to be developed further. Early versions were produced in the mid 90s, and over time, it evolved in terms of the story and the lyrics.
Snapshots did not develop out of an ideal list of songs that had to be included. "As happens when you're writing an original musical from scratch, the story and the characters made the demands of what the material should be," Schwartz comments. The musical first debuted as a Village Originals Developmental Production in 2005. Developmental productions were later staged at Dayton, Ohio's The Human Race theatre, Goodspeed's Norma Terris in Connecticut, and elsewhere. Village Theatre's Mainstage production of fall 2015 marks the final stages of evolution for Snapshots.
Snapshots Songs by Stephen Schwartz and their Sources
Stephen Schwartz has rewritten many of the lyrics for Snapshots in order to stay true to the story and characters of this new work. Schwartz says that about 50 percent of the lyrics are new.
ACT I
Overture
"Snapshots." This and several other songs are from Reluctant Pilgrim, a CD of personal songs by Stephen Schwartz
"New Kid in the Neighborhood" from Captain Louie
"No Time at All" from Pippin / "Popular" from Wicked
"Lion Tamer" from The Magic Show/ "I'm Not That Girl" from Wicked
("Snapshots" reprise)
"Making Good" an early version of a song from Wicked / "Extraordinary" and "Corner of the Sky" from Pippin
"Two's Company" from The Magic Show/ "All For The Best" from Godspell
"Extraordinary" from Pippin
"Morning Glow" /With You from Pippin

"If We Never Meet Again" from Rags, although it was cut from the Broadway production. RECORDING: Alice Ripley and Emily Skinner have recorded this cut song from Rags on their Duets album. Duets - (Varese Sarabande, 1998) Duets - [Amazon.com]
"Nothing To Do With Love" from Personals
"If We Never Meet Again" reprise
"Endless Delights" from The Baker's Wife
"Lion Tamer" reprise
"Meadowlark" also from The Baker's Wife - (Meadowlark page with lyrics)
ACT II
Entr'acte - "That's How You Know" from Disney's Enchanted
"Moving in With Susan" from Personals
"Chanson" The Baker's Wife (Chanson page with lyrics)
"The Spark of Creation" from Children of Eden
"All Good Gifts" from Godspell - (All Good Gifts page with lyrics)
"Parents' Day" from Children of Eden
"Fathers and Sons" from Working
"Code of Silence" from Reluctant Pilgrim album.
"If We Never Meet Again" (reprise)
"Cacophony"
"With You" (reprise)
"In Whatever Time We Have" from Children of Eden (page with lyrics for this song) / "So Far" Reluctant Pilgrim.
Snapshots was conceived by Michael Scheman and David Stern. Music and lyrics by Stephen Schwartz, with additional music and lyrics by David Crane, Seth Friedman, Marta Kaufman and Charles Strouse.
Book writers for the original shows from which the songs are derived:
Godspell JOHN MICHAEL TEBELAK; Pippin ROGER O. HIRSON;
The Magic Show BOB RANDALL; The Baker's Wife and Rags JOSEPH STEIN;
Working STEPHEN SCHWARTZ and NINA FASO; Children of Eden JOHN CAIRD;
Captain Louie ANTHONY STEIN; Personals DAVID CRANE, SETH FRIEDMAN, and MARTA KAUFFMAN; Wicked WINNIE HOLZMAN
PRAISE FOR THE SHOW
"The story is appropriate for teens through senior citizens, but especially for married couples. It really affected our audience as most people left the theater with tears in their eyes. Also, I'm sure it encouraged a lot of discussions on the way home." -- Comments by Sandy Focht of Dayton, Ohio, who attended the 2007 production in Dayton.
Snapshots Review from Village Theatre production 2015
...The twist here is the tale unfolds through the greatest hits of composer Stephen Schwartz. However, even if you've heard such modern-day standards as "Popular" from "Wicked" or "Extraordinary" from "Pippin," you've never heard them like this new, refreshing presentation.... Issaquahpress.com, Sept, 2015.
Snapshots Review from the Ohio production in 2007
Review by Scott Cain (used with permission) - Originally published on TalkinBroadway.com
Over the years, the Human Race Theatre Company in Dayton, Ohio, has helped to develop quite a number of new musicals, either through their Musical Theater Workshop series or via full blown productions. Shows such as Was, Convenience and Harold & Maude were either shaped or fine-tuned at Human Race in recent years.
The theater company kicks off their Mainstage season for 2007/2008 with yet another similar endeavor. Incorporating existing songs from Broadway composer/lyricist Stephen Schwartz into a new story, Snapshots is a tune-filled emotional examination of a single relationship across a span of thirty years. Human Race is one of several theaters that has worked to develop the piece with the help of Mr. Schwartz and book-writer David Stern. The result is an entertaining package showcasing well-known theater songs which have been given a fresh sound, together with a unique storyline. This production, which is mounted in coordination with Dayton's, Victoria Theatre Association, boasts a very talented six-person cast and solid direction.
Snapshots tells the story of Sue, who is about to leave Dan, her husband of about twenty years. As Sue retrieves some items from the attic, Dan unexpectedly comes home early. Before Sue can tell Dan that their marriage is over, that come across some photographs that stir up memories from their past, which come alive in front of them. The circumstances and emotions associated with each picture play out as the couple watch two sets of their younger selves, school-aged Danny and Susie, and young adults Daniel and Susan.
Few musicals could boast a stronger score than Snapshots. Many of the best tunes from Stephen Schwartz's vast musical theater catalogue (there are none from his film scores here) are presented, to much delight. Pippin, The Magic Show, Wicked, and The Baker's Wife are the most well represented, but showtunes from Children of Eden, Godspell, Rags, Working, Personals and Captain Louie are also used. Two songs from Mr. Schwartz's Reluctant Pilgrim album are included as well.
Part of what makes these songs effective here, out of their original context, is the fact that Mr. Schwartz has provided many new lyrics to make the songs much more specific to the characters and plot of Snapshots. Godspell's "All For the Best" contains nearly all new words, and "Popular" (Wicked) and "If We Never Meet Again" (Rags) have significantly altered lyrics as well. Most of the other songs have at least minor lyric changes. However, it is the melding and layering of songs that creates some of the best musical moments in the show. Combinations of "Lion Tamer" and "I'm Not That Girl"; "Two's Company" with "All For the Best"; and the trio of "Making Good" (cut from Wicked)/"Extraordinary"/"Corner of the Sky" are a few examples of new musical arrangements that supply fresh approaches to familiar songs. The writer's emotionally rich songs, such as "Meadowlark" (sung as a trio for the three female performers), "Chanson," "All Good Gifts" (which is Dan's response to becoming a father) and the title song, provide poignancy and strong material for a relationship-themed show.
David Stern's book provides a solid structure for the songs, with detailed characters, plenty of pathos and mostly smooth transitions. The fact that the "current-day" characters can communicate and interact with their younger selves comes across as a somewhat lazy theatrical device. However, it is presented in such a way that it isn't difficult for the audience to go along with the approach. The show's humor is a mixed bag, with the scene featuring "Endless Delights" a hoot, but the two songs from Personals going for cheaper laughs. The other minor weakness with the book is that too little time is spent on the couple's married life as compared to their childhood and dating life together. As far as shows using existing material go, however, Snapshots is certainly toward the top of the heap. The use of a meaty book and songs that have been reshaped for this particular show make this better than most of the composer revues and jukebox shows so prevalent today.
The impressive list of songs for Snapshots, as well as the complex characters, provide ample opportunity for the six talented performers in Human Race's production. Denise Devlin, a recent graduate of Northern Kentucky University, shows off a wide range, both vocally and in the acting department. She demonstrates spunk, quiet contemplation and a knack for physical comedy in her role as young Susie, and sings with great skill. As young adult Susan, Kristy Cates (a former Elphaba in Wicked in NY and Chicago) supplies splendid professional polish and stage presence. Her wonderful rendition of "The Spark of Creation" captures the fiery determination of self-discovery (in this case, that of an expected mother-to-be). Forty-something Sue is portrayed by Stefanie Morse. Ms. Morse wisely delivers her material with the quiet heartache of a woman viewing the end of a long marriage.
The men in the cast don't have quite as strong a set of songs as their female counterparts, but likewise do well with their material. Human Race regular Scott Hunt scores lots of laughs as child/teenager Danny, and is believable as a character much younger than his own age. Michael Marcotte puts his great facial expressions to good use, and carries the character deftly from college graduate to empty-nester dad and husband Daniel. Jay Montgomery has the most difficult job, with his role as Dan, the modern-day workaholic spouse. Mr. Montgomery allows the audience to empathize with the character despite his faults, and leads the final song, "In Whatever Time We Have," with confident vocals and the appropriate desperation of a man trying to redeem a marriage that has been neglected for too long.
Director Randy Brenner makes many smart staging choices, and his attention to detail helps enhance the theatrical experience of viewing the show. Under Mr. Brenner's leadership, the show flows well and there is a fine balance between humor and dramatic tone throughout. Choreographer Karl Christian supplies effective movement in the limited dances, but the show could stand to have a few more choreographed moments. Musical Director Brent Crayon deserves kudos for capably leading the cast through some complex vocal arrangements and in directing the skilled four-piece band. Those exquisite arrangements and the orchestrations are the work of Tony nominee Steve Orich.
The effective unit set by Bob Fetterman is that of a dusty attic, with a hodge-podge of boxes and carefully unorganized junk scattered about the room. The costumes by Carolyn Ericson are appropriate, though a bit more variety for the two younger couples wouldn't hurt. John Rensel's lighting is professionally rendered, but the use of various colors coming in through an attic window seems vague in purpose and distracting at times.
Snapshots has a lot going for it. Its quaint and personal story of a couple struggling through life's ups and down plays well to the Midwestern sensibilities of an Ohio audience and will likely to appeal to many of the audiences to which this show will eventually play. Schwartz's amazing songs are given a new coat of polish thanks to new lyrics and arrangements, and the story that supports the songs is well-constructed. The piece isn't perfect, but it's a worthwhile package that is likely to please most audiences. The Human Race Theatre Company, with their strong cast, direction, and sufficient design, presents an entertaining production of which all involved should be proud. www.humanracetheatre.org.
This review was originally published on http://www.talkinbroadway.com/regional/cincy/cincy161.html