The Making of Wicked
Wicked, Hairspray, and "What is This Feeling"

Photo by Joan Marcus - Idina Menzel and Kristin Chenoweth as Elphaba and Glinda facing off during the scene for "What Is This Feeling"
To understand how Hairspray helped inspire Wicked's composer Stephen Schwartz to write "What Is This Feeling" see the article below on this website page. (Did you catch the Hairspray movie based on the Broadway play? Watch the DVD Hairspray: Special Edition (Musical)
- Release Date November 20, 2007)
Feature Article: Hairspray's High Energy Inspires Wicked's "What is This Feeling"
By Stephen Schwartz biographer Carol de Giere
First published for issue 16 of The Schwartz Scene
"I've written four versions of this song," Stephen Schwartz told me when he described a duet from Act I of Wicked. It was January 2003 and rehearsals for San Francisco were closing in. "I know this version is the best I've done so far but I'm not sure it's going to work." It didn't.
Landing the "roommate song" proved an exasperating journey. It began with a blue card on a storyboard as a generic placeholder. Wicked's early planning sessions were guided by the storyboard process Schwartz had used for film musicals. In this case, possible spoken scenes were described on white index cards and songs on blue ones. They would then be arranged in sequential order and rearranged as the story evolved.
The card read "Elphaba and Galinda don't like each other." Opposites thrown together-there was inherent drama. So far all he had were notes "Possible E/G Songs - Nothing in Common, Just my Luck, And Yet..., Oil and Water, Insufferable."
The first song was called "It's a Bad Situation," and a rewrite labeled simply, "Bad Situation." For the reading in July 2002, for the revised Act I, he wrote, "Far Be It For Me."
"They were all about the two girls being roommates and not getting along. I just never came up with anything that was good enough."
At one point, Schwartz questioned director Joe Mantello about whether this was really an obligatory scene. Is it really necessary to have to have a song there? But there was no way out of it. That moment provides a foundation for the central transformation in the show-the "bad" and "good" characters shifting from loathing to deep caring. There had to be a song.
At long last, Winnie Holzman came up with a solution. She suggested they could sing a love song about falling in hate. It would be like a spoof on falling in love songs.
In the fall of 2002, he wrote "What Is This Feeling?" version one. Originally, it was a lovely waltz tune that contrasted with lyrics of disgust, becoming a playful satire. Sung on its own, the piece got a lot of laughs and both writers were pleased. It might have worked, but in the sequence as the third song in the show, it didn't. It took a while before Schwartz could really take in the director's resistance and know what to do about it. He tells the story of how he came to write version five:
"When I first played the song for Joe, he didn't really like it. Winnie and I thought, 'Why doesn't he get it?' He couldn't put his finger on it and finally one day he went to see Hairspray. He came in the next day and said, 'The first act of Hairspray is so high energy. I think what's bothering me about that song is that it's too early in the act and I want more energy.' And that was the first time I heard it."
When they ran through the show in a table reading, listening to the songs as they came up in sequence, Schwartz had the new perspective. "As soon as I heard the song I thought the whole act has just gone into the toilet. We have to have energy at this point."
That night Schwartz wrote the new music for "What is this Feeling." The lyrics were done once he added back something that had been in earlier versions of that sequence (about the whole student body taking Galinda's side). "So it was so easy," Schwartz insists. "People were very impressed that I wrote it in a day but the fact is that I didn't. I actually wrote it over the course of about two-and-a-half years, it's just that there were several first drafts of it. But I did five separate numbers for this spot and I think this is it." It was.
Every big musical needs dance numbers to contribute to the energy. Wicked's choreographer Wayne Cilento amplified the zestful energy of "What Is This Feeling?" by sending a wedge of college coeds to dance zippily behind Galinda visually implying their support for her.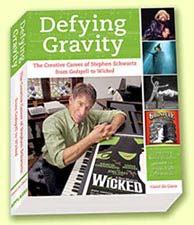 READ ALL ABOUT WICKED in DEFYING GRAVITY - the BOOK
Autographed copies signed by Wicked composer Stephen Schwartz are available. Find out where to buy Defying Gravity - the book.
In the book's 14 chapters on the musical Wicked, you'll find out what it was like for Mr. Schwartz, Ms. Holzman, director Joe Mantello and others who worked together to make this show possible. Enjoy flipping through photo-filled pages and reading about the creative process.
Read more here about the score's development: Wicked's musical themes
Wicked CD - original Broadway cast recording for the musical Wicked: $13.49 (List price $18.98). - Wicked CD [new browser window]


Hairspray Broadway CD [new browser window] Hairspray Cast album at Amazon.com with clips.