Wicked History
Wicked History Sources: book, podcast, DVD, and articles
The completed version of Wicked opened at the Gershwin Theatre on October 30th, 2003. It has been running continuously and as of 2013, it is the 12th longest running show in Broadway history.
The Making of Wicked the Musical
(For ticket information, posters and merchandise, lyrics, and more, see out main Wicked page).
Wicked History Part I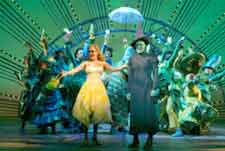 Stephen Schwartz in an interview - summer 2001: "We spent a lot of time before starting to really write at all. We spent about a year at least - Winnie (Holzman) and I and Marc Platt - working on an outline. We went through several drafts of the outline, until we really felt we had the story telling right.
It's a very complicated story to work out; there's a lot of plot, there are a lot of relationships between the characters that either had to be used or dropped, there are a lot of surprises and twists and turns to the plot that needed to be figured out so everything worked logically. It was almost like plotting a mystery novel. "I remember reading an interview with J.K. Rowling who of course wrote the HARRY POTTER books and how she had spent a year working out the world - for example the rules of Quidditch before she wrote anything. We did a similar amount of work.
"...Once we started writing even though things have change and will continue to change, songs get dropped, or re-written or scene's get combined, the essence of the show and the structure of it hasn't changed. When Joe Mantello came in as director, he of course had several ideas and suggestions many of which we are doing because we thought they were terrific but nothing of which I would call really substantially changing the structure."
Defying Gravity Stephen Schwartz biography is the best source on Wicked's development
Defying Gravity: The Creative Career of Stephen Schwartz, from Godspell to Wicked first and second editions include a fascinating, 150-page account on the making of Wicked featuring comments by Stephen Schwartz, Winnie Holzman, Joe Mantello, the producers, Gregory Maguire, and others. The book includes the original outline for the show (in the back of the book), handwritten lyrics, photos, and many stories based on interviews. The SECOND EDITION includes CHAPTER 30 - WICKED WORLDWIDE.
Read sample chapter 16: Defying Gravity: Chapter 16: Landing in Oz [pdf file - opens in a new window]- This is the first of 14 chapters that take readers into Wicked's creative journey. It includes photographs of the trip to Hawaii on which Stephen Schwartz first conceived of adapting Gregory Maguire's novel as a musical.
DVDs and Audio
ShowBusiness: The Road to Broadway features Wicked, as well as three other shows. Visit: Wicked in ShowBusiness for photographs, details about the Wicked interviews with Stephen Schwartz, Idina Menzel and others, and ordering information.

The DVD version of this landmark new PBS documentary about Broadway includes, among others, bonus features: "Wicked: The Road to Broadway" (16 minutes) and rehearsal of "For Good." Enjoy interview clips and footage from the colorful production of Wicked. BUY IT or get MORE INFO: Broadway: The American Musical - DVD .
Wicked History Part II
Who wrote Wicked the musical? The Schwartz - Holzman collaboration
It started as Stephen Schwartz's idea (see sample chapter listed above) to adapt Gregory Maguire's book. He invited Winnie Holzman to write the "book" (the script) of the musical. The two of them worked closely together for about 4 years, through ups and downs of the creative process.
"One of the things I have learned about doing a Broadway musical is that the writers must hang together as a team....And if we had something where one of us felt one thing and the other of us felt another thing, whether it was about specifics in the book and score, or whether it was about how to handle a given situation in casting, or what we felt about staging, or anything like that, if we disagreed about anything, we always worked it out between the two of us so that we always spoke with a united voice, and that was vital." —Stephen Schwartz, quoted in the biography Defying Gravity: The Creative Career of Stephen Schwartz, from Godspell to Wicked, Chapter 27.
What was the toughest challenge?
In 2006, Stephen Schwartz, Gregory Maguire (writer who penned the novel Wicked), and David Stone (one of Wicked's main producers) spoke in a sold-out event sponsored by the Boston Globe. They covered stories about how the show developed from Maguire's novel to the musical phenomenon, such as Gregory's motivation for writing Wicked and his surprise discovery that there were going to be talking Animals in his book. In a funny exchange between Schwartz and Maguire, the songwriter turned to Maguire in a mock gripe about what a difficult time they'd had working with his [bleep] Animals in the story. Read about: Wicked's Talking Animals
More Wicked history
Stephen Schwartz's udpates from The Schwartz Scene newsletter from 2000 - 2001 and from 2002 - 2003 include his experiences for the making of Wicked.
---
Brian Altman, a fan of Stephen's stage and movie musicals, shared an insight based on his reading of the novel and his appreciation of Schwartz musicals like Pippin, Children of Eden, The Prince of Egypt,and Godspell.
"The greatest thing about these guys (Maguire and Schwartz)--in addition to the extraordinary stories they tell-- is the WAY they tell them. Each of their stories is so cleverly, compassionately, conveyed. There is nothing out of the ordinary in the characters or the way they speak. The wonderful thing is that they all seem real to us. Even GOD himself (give or take a few miracles) is seen as being just like us. Elphaba is just a girl who happens to be green. Moses is a man who was mislead by his new parents...Pippin is just trying to find his way...Noah is a father, trying to keep his family together...and safe...and so on. It's the simple passion with which the truths and decisions are relayed that make them so compelling and fascinating."