Stephen Schwartz Career Updates - The Wicked Years Part 2 - from The Schwartz Scene
ON THIS PAGE

Quarterly updates dated 2002 to 2003, written by Stephen Schwartz for "The Schwartz Scene," a newsletter for fans.
During this period, Schwartz finished his work on the musical Wicked, which played in San Francisco in the summer of 2003, then opened on Broadway in October.
Links to The Schwartz Scene archive additional content. If you missed the first page of the archives, go to Stephen Schwartz - The Wicked Years 1 (2000 - 2001)
Updates for The Schwartz Scene CONTINUED - 2002 - 2003
You may link to this page, but please do not copy the content into your own blogs or websites.

6. Stephen Schwartz's Update Winter 2002
Dear Friends: The past three months were gratifyingly full of accomplishments, I am happy to report. First and foremost was the completion and release of my new CD, "Uncharted Territory".
Right now it is only available on line through the record company, Fynsworth Alley; this version includes a bonus track, "Promise to Remember Me", a song which I wrote with Alan Silvestri to benefit the Juvenile Diabetes Research Foundation. I'm not exactly sure of the timing of when the CD becomes available in stores and through other on line services, without the bonus track of course, but I'm delighted to have it out there at last, and I'm looking forward to hearing what you think of it from those of you who want to write. I'm starting to get some responses already about people's favorite cuts -- "Forgiveness' Embrace," "Toxic People" and "The Roads Untaken" seem to be mentioned frequently so far. In any event, I hope you enjoy it.
On the WICKED front, much progress has been made as well. A couple of weeks ago, we did a reading of the show in New York. The cast for that reading featured Idina Menzel as Elphaba (who becomes the Wicked Witch of the West) and Kristin Chenoweth as Glinda (the Good Witch of the North). They will be repeating their roles in an upcoming presentation in Los Angeles this month, and we hope they will be with the show all the way to Broadway next year. In case you're not familiar with them: Idina is currently playing Amneris in AIDA on Broadway and was featured in the original cast of RENT as Maureen and in Andrew Lippa's THE WILD PARTY (at Manhattan Theatre Club) as Kate. Kristin won a Tony Award for the revival of YOU'RE A GOOD MAN, CHARLIE BROWN and was featured in the TV version of ANNIE, among many other stellar appearances. They are both terrific and complement each other beautifully (and compliment each other as well!) The reading in New York went very well, and as is the purpose of these things, we learned a great deal about the material and what rewrites and revisions we want to make. Book writer Winnie Holzman and I are busily at work on them now, and we will be trying a lot of new things in Los Angeles. This is a part of the process I really enjoy, so even though it's been a great deal of work, I've been having fun.
One of the best things about the New York reading was that it was attended by Gregory Maguire, who wrote the novel WICKED on which the musical is based. Needless to say, Winnie and I were a little nervous about his seeing it, lest he be unhappy with what we had done with his creation. But to our great relief, he was very enthusiastic and is going to send us some notes with his suggestions and ideas, which we are very much looking forward to.

With those two big things going on, there wasn't a lot of time for much else. Somehow, I managed to have good holidays with my family (as I hope you all did with yours.) I enjoyed accompanying the Juilliard Choir for the lighting of the Christmas tree in Lincoln Center, which was broadcast on ABC. They sang a Chanukah song I wrote (with lyrics by Steve Young, one of David Letterman's writers.) This song was also recorded by Jane Olivor on her recent holiday album, so I guess after all these years, I've finally entered the Holiday Song arena, though thus far, the Irving Berlin estate has nothing to worry about. [Jane Olivor's Songs of the Season]
By next quarterly, I should have more to report about WICKED. Specifically, I should know where and when the first production will be taking place this coming fall, so that some of you can finally see it! Till then, I wish you all the best as 2002 gets going, Stephen
7. Stephen Schwartz's Update Spring 2002
Dear Quarterly Readers: As many of you know, I have spent most of this past quarter working on revisions for my new show WICKED. We had reached the stage where it was time to pull the show apart and put it back together, using the insights gained from the series of readings we had done over the last year or so. We decided to concentrate on the first act, since that was where we felt we had our main story-telling and structural problems to solve. Although it was, as always, unsettling to question every moment of the show and consider changing anything and everything, ultimately I feel it has yielded excellent results.
Yesterday, April 5th, we did a reading of the new first act, complete with two entirely new songs from me and virtually every other scene and song at least somewhat rewritten, and we were all overwhelmingly pleased with the result. I would like to say for the record that our director, Joe Mantello, was extremely helpful to Winnie (Holzman, the book writer) and me in helping us reshape and sharpen scenes and incidents, and I am enjoying our collaboration immensely.
We had a wonderful cast for the reading, including Idina Menzel as Elphaba, Kristin Chenoweth as Glinda, Adam Garcia as Fiyero, and Dana Ivey as Madame Morrible. Having such terrific performers really helped us to work on the material. I expect and hope by next quarterly I will be able to announce who will be in the cast for the final show and also some other personnel, such as choreographer, whom we seem to be getting close to arriving at. I will also know by then the location and dates of our tryout production next spring.
For the time being, I am taking a month's break from WICKED to work on incidental music for Scott's workshop production of MY ANTONIA, being presented in Palo Alto at the beginning of May. Then I'll be writing some more new material for WICKED in preparation for another reading at the end of July. And of course, as the weather starts to turn nicer, I should be able to get in some tennis and general recharging of batteries as well. All the best as always to all of you; have a great spring.
Stephen Schwartz
8. Stephen Schwartz's Update Summer 2002
Dear Friends: It has been a time of preparations for upcoming projects, and the clock in my head has started ticking louder and faster. WICKED, whose first presentation once seemed so comfortably far off, is suddenly looming alarmingly close on the horizon. Bookwriter Winnie Holzman (best known for writing such well-scripted television series as ONCE AND AGAIN, THIRTYSOMETHING and the wonderful series she created, MY SO-CALLED LIFE) has just arrived in New York, and she and I are feverishly working towards a private reading of the latest version at the end of the month. We are then planning to do some sort of staging/choreography lab in October, and then (eek) we go into rehearsal in February for our first production, which will be at the Curran Theatre in San Francisco beginning the week of April 14, 2003. I know that may sound far off to some of you, but believe me, when you're working on a new musical, it's not!
I think many of you know that our director is Joe Mantello, known for his excellent work on shows like LOVE! VALOR! COMPASSION!, and THE VAGINA MONOLOGUES, among others. We are in negotiations with many of the actors we hope will be in our cast, but the only one our press agent, Bob Fennel, will allow me to announce at this time is the sensational Kristin Chenoweth, who will be our Glinda. I'm sure I will be permitted to reveal more of the cast in my next quarterly update.
I have a very strong musical staff, headed by my musical director, Stephen Oremus, who worked in that capacity with my son, Scott, on TICK, TICK, ... BOOM! and also musical directed Andrew Lippa's THE WILD PARTY. His assistant (in a clear case of over-qualification) will be the brilliant Alex Lacamoire, who was Scott's musical director on BAT BOY and did the fantastic new arrangements for the GODSPELL tour that can be heard on the DRG recording. And my orchestrator is Danny Troob, with whom I worked on POCAHONTAS and who is universally regarded as among the very best orchestrators working today. So musically, at least, I feel well-protected. Clearly, if people don't like the music, it will be no one's fault but my own.
[Editor's note: Orchestrator William David Brohn was later hired when Wicked's Schedule changed and Danny Troub was no longer able to complete the project. Brohn is also "among the very best."]
As if this weren't enough to do, we are also in the midst of preparing for a new production of THE BAKER'S WIFE, which will play at Goodspeed's Norma Terris Theatre in Chester, CT, this November and December. Bookwriter Joe Stein and I have done some new work on the show, collaborating with a talented young director named Gordon Greenberg, who will be in charge of the production. The delightful Lenny Wolpe, who has played the Wizard in our Los Angeles readings of WICKED, has agreed to journey east to play the Baker. Final callbacks for the other leading roles of the wife and the young man who entices her away are -- oops! tomorrow. Which means I'd better sign off and get back to work. Best to you all and thanks as always for your interest in my work, Stephen Schwartz
9. Stephen Schwartz's Update Fall 2002
I'm sitting here in my studio as my engineer, John Angier, hooks up the cables from the Yamaha Disklavier to the computer, so we can prepare the music for one of the new songs for WICKED. It has been a busy few months of preparation -- re-writes, readings, meetings, and more re-writes -- as we get ready for WICKED to kick into another gear: final casting next month, a staging lab in December, and rehearsals in later winter for our first production in San Francisco this spring. Book writer Winnie Holzman and I have completed what we hope is our rehearsal draft, and I have one more major new song to write, and then it's time to put this puppy on its feet and see what we have wrought. I am both terrified and exhilarated.
Meanwhile, the Goodspeed-at-Chester production of THE BAKER'S WIFE is in rehearsals, beginning performances November 7. I went to the first reading a week or so ago, and felt very happy with the cast, which includes Lenny Wolpe as the baker and Christiane Noll as his wife. Joe Stein and I have made a few more changes to the show, including the addition of a subplot that we feel helps to enrich the Villagers' story.
My Stephen Schwartz and Friends concerts finished up well with appearances in Kansas City, Kansas, Platteville, Wisconsin and Arvada, Colorado. While in Kansas City, I saw a special performance of the second act of a production of Children of Eden, which was terrific and has reportedly been touring the area for over a year. And I learned that the theatre in Arvada where I appeared is presenting Children of Eden as their Christmas show. So I was very happy to have Father, Adam, Eve and the rest of the gang dogging my footsteps!
I always enjoy doing the concerts and having the opportunity to meet new friends in towns and communities around the country, but I am happy to be back home for the rest of the year and hunkering down on Wicked. Writer hibernation for the remaining new song begins soon!
I wish you all a great fall and holiday season, and I will report again at the beginning of next year. Stephen Schwartz
10. Stephen Schwartz's Update Winter 2003
As I begin this first quarterly newsletter update of 2003, it is with the discomforting realization that when the time for the next one rolls around, WICKED will already be in rehearsal. After all this time doing rewrites, readings, and more rewrites, it seems to be coming up alarmingly quickly. But I feel we have assembled a very strong team to try to bring to it to life on the stage of San Francisco's Curran Theatre this coming May.
Some of you know about some of them, so please pardon the redundancy if some of this is old news to you: The cast will feature Idina Menzel (the original Maureen in RENT and Kate in Andrew Lippa's WILD PARTY) as Elphaba, the girl who becomes the Wicked Witch of the West. As her "good" counterpart, Glinda, we have Kristin Chenoweth (who won a Tony for her role in CHARLIE BROWN and is playing Marion in the upcoming television version of THE MUSIC MAN). Madame Morrible, their headmistress at Shiz University, will be played by Carole Shelley (Tony Award winner for the ELEPHANT MAN and currently starring in CABARET.) Boq, the unusually tall Munchkin they meet at school, will be Kirk McDonald (recently in BOYS FROM SYRACUSE.) Although we have made choices for the roles of Fiyero and the Wizard, I can't reveal them yet because their contracts are still in negotiation. Two other principle roles (Nessarose, the Witch 's sister, and Dr. Dillamond, her professor at her school who happens to be a Goat) have yet to be cast. The production will be directed by Joe Mantello, currently represented on Broadway by FRANKIE AND JOHNNY and the soon-to-open TAKE ME OUT. Choreography will be by Wayne Cilento, Tony Award winner for TOMMY and currently represented by AIDA. The sets are being designed by Eugene Lee (RAGTIME, SWEENEY TODD, etc.), costumes by Susan Hilferty (INTO THE WOODS revival, etc.) and lighting by Ken Posner (HAIRSPRAY, etc.)
My musical team includes orchestrator Bill Brohn (RAGTIME) and musical director Stephen Oremus (tick, tick ... BOOM! and Andrew Lippa's WILD PARTY). Stephen will be ably assisted by Alex Lacamoire, who was musical director of BAT BOY. And dance arrangements are being done by Jim Abbott, who worked with Wayne on AIDA.
This is a strange time for the writer of a show. My work is more or less done for the time being, until we see the show in front of an audience or at least get into rehearsal. So I basically have to sit around anxiously, hoping that other people are doing their jobs!
Fortunately, I've had some welcome distractions. One of these was the recent production of THE BAKER'S WIFE at Goodspeed's Norma Terris Theatre. I am happy and a little bemused to report that, somehow, the show finally works! The production was extremely well received, and Goodspeed will present it on their mainstage to open their 2004 season. It only took 26 years to get this show right, (so at that rate, WICKED should finally be finished when it is revived in, let 's see now, 2029.) It's been interesting to me to observe that, now that the show finally works, it seems so simple and obvious how it should have been all along. Why it was so difficult to arrive at I don't quite know, but I give a lot of credit to Trevor Nunn for helping to set bookwriter Joe Stein and me on the right path.
I've also been working with Alan Menken again, and as always, really enjoying our collaboration. We are preparing for a planned television movie of The Hunchback of Notre Dame. We will be drawing from both the animated feature and the stage version which was produced in Berlin, but also have written a new song for this version and will probably write at least one more, as well as rewriting and restructuring many of the others.
I have also written a couple of new songs for a children's show I orginally wrote in 1985 for an organization then in New York called The First All-Children's Theatre. The original founder of that theatre and director of the show, Meridee Stein, has recently returned to New York from Atlanta and is attempting to launch a new, expanded production of the show, which was originally called THE TRIP (based on the picture book by Ezra Jack Keats) and is now entitled CAPTAIN LOUIE. But as you can imagine, my primary focus these days is WICKED.
Wish me luck! Till next quarter, Stephen Schwartz
11. Stephen Schwartz's Update Spring 2003
Dear friends: Well, the time has finally arrived when it can be postponed no further. WICKED will be seen by the public for the first time at the end of this month. The cast and crew are out in San Francisco as I write this, slogging through technical rehearsals (and believe me, there's a LOT of tech to rehearse!) I head out to join them in the middle of next week, arriving in time for the first orchestra rehearsal.
The rehearsal period in New York went well, and Winnie and I were able to accomplish a great deal in terms of revisions and new material. I wrote a new song for the two leads (Kristin Chenoweth and Idina Menzel), which seemed -- at least in the rehearsal room -- to solve a problem spot that had plagued us for some time. We finished up feeling that we had taken the show as far as we could without seeing it performed in front of an audience, so we feel ready for this next big step.
Obviously, WICKED has been occupying most of my time, but I was able to get a new song written with Alan Menken for the planned television production of HUNCHBACK OF NOTRE DAME -- no word yet on when that will be scheduled.
I was glad to be able to oversee the ASCAP Musical Theatre Workshops in New York, since work on WICKED had precluded me from doing them in Los Angeles this year. There were five pieces presented, all wildly different stylistically, ethnically, and structurally, and all of them talented in their individual ways, so I was also pleased to see the continuing growth of new musical theatre writing talent.
There was a very sad moment this past quarter: the unexpected and sudden death of Lynne Thigpen with whom I had worked on GODSPELL and WORKING and who was always such a joyful and intelligent presence in any project she chose to be part of. There was a lovely memorial service for her in New York, but unfortunately I was only able to attend the first hour or so of it, having to be at sound-check for, of all things, the MAC Awards! Nevertheless, I got to share reminiscences with many of the GODSPELL family, and though it was a sad occasion on which to do so, it was great to re-connect with them again.
By my next update, we will know what befell our Green Girl when she arrived in San Francisco, and I will report on that experience, which is sure to have its ups and downs (more of the former, I hope.)
Thanks as always for your interest and support, Stephen
Issue 12 - Summer, 2003. No update from Stephen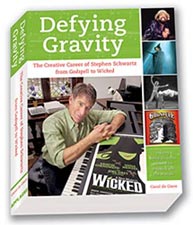 Stephen Schwartz was too busy with Wicked to write an update.
WICKED SAN FRANCISCO: To find out what happened to Wicked in San Francisco, read Chapter 27 "Shock at First Sight" in Defying Gravity: the Stephen Schwartz biography
Issue 13 - Fall 2003 - Includes Text from an interview with Stephen Schwartz
To read the interview included in Issue 13, go to Schwartz career interview 2003 - It includes his comments about Wicked revisions for San Francisco, and his writing of "The Wizard and I."
Continued....
PREVIOUS
ARTICLES
To read additional content for The Schwartz Scene back issues see The Schwartz Scene archive
Please DO NOT copy and paste this copyrighted content into your own blogs or websites. You may link to this page but do not copy the content. Thanks. COPYRIGHT reserved by MusicalSchwartz.com