Stephen Schwartz Career Updates - The Wicked Years Part 1 - from The Schwartz Scene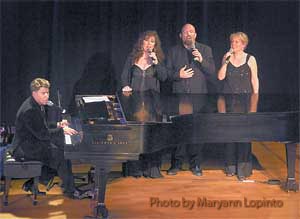 ON THIS PAGE
1) Introduction to The Schwartz Scene archive
2) Quarterly updates dated 2000 to 2001, written by Stephen Schwartz about the making of Wicked, and his other projects, for "The Schwartz Scene," a newsletter for fans.
3) Links to The Schwartz Scene archive additional content.
[PHOTO: by Maryann Lopinto, Stephen Schwartz at the piano with singers as part of a "Stephen Schwartz and Friends" concert.]
Introduction to the Stephen Schwartz Updates The Schwartz Scene Archive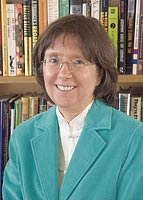 Introduction to The Schwartz Scene Updates
by Carol de Giere
By the time I met songwriter Stephen Schwartz in July of 2000, he had already written scores for about a dozen musicals (Godspell, Pippin, and others), received three Academy Awards and three Grammys, and had started on a soon-to-be-announced musical for Broadway.
I knew he had many fans around the world, and I hoped some would be future readers of the Schwartz biography I was writing. So I established a website, MusicalSchwartz.com, and newsletter to reach out to them.
In the fall of 2000, I asked Stephen if he might write regular updates for this quarterly online newsletter that I named "The Schwartz Scene." He agreed he would when he had time. He often penned his updates on plane flights and later sent them to me by email. I've now extracted his updates from back issues of the newsletter and combined them here.
Why read these Schwartz news updates now? These updates provide a fascinating glimpse into the real-life activities of a major Broadway and film songwriter. You'll read how someone as creative as Stephen Schwartz juggles multiple projects and moves his work forward. You'll see his response to 9/11 and "witness" stages for Wicked's development.
In the text I've inserted hyperlinks to pages that will provide you with further information about shows or people Stephen mentions.
Stay updated on Stephen Schwartz news
Stay current by subscribing to the free newsletter/e-zine: The Schwartz Scene.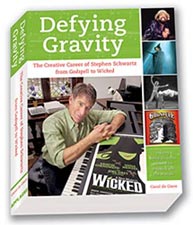 For further reading
Defying Gravity: the Creative Career of Stephen Schwartz, from Godspell to Wicked. Defying Gravity includes many never-before-told stories and over 200 photographs and illustrations. 544 pages. For more information or to order the book online visit DefyingGravityTheBook.com
Updates for The Schwartz Scene
You may link to this page, but please do not copy the content into your own blogs or websites.
1. Stephen Schwartz's Update, Fall 2000
As many of you know, I am currently working on a new musical for the theatre (as opposed to animation, film or television). Yes, I admit I haven't always had the most enjoyable time working in theatre, particularly on Broadway, but this is a story I really wanted to tell and I know that live theatre is the right medium for it. The show is called WICKED. It is based on a novel by Gregory Maguire.
Gregory had the extremely clever idea of telling the story of the Wicked Witch of the West -- how a little green Oz girl named Elphaba grew up to be the greatest villain in the land. The story is centered around Elphaba's friendship with Glinda (who starts out named Galinda and shortens her name by one letter at a certain point in the story). They begin as reluctant roommates at Shiz University and go on from there to events that are more familiar to us. Obviously, as well as being a cool idea and a lot of fun, this is a story about how appearances can be deceiving and how life is always more nuanced and complex than we like to think it is. As you know, I often like to take familiar characters or stories and look at them from a different point-of-view, so you can understand why I am so attracted to this idea.
I am writing music and lyrics for WICKED and Winnie Holzman is writing the book. Winnie began her career by writing book and lyrics for an off-Broadway musical called BIRDS OF PARADISE, but shortly thereafter moved to Los Angeles with her husband, actor Paul Dooley. Since then, she has mostly written for television, and what made me think of her for this project is a wonderful television series she created and wrote called MY SO-CALLED LIFE. These days, she writes for the excellent series ONCE AND AGAIN. But as those of you who are familiar with MY SO-CALLED LIFE will know, Winnie is particularly good at writing female characters who are funny, real and believable, and that seemed to me to be particularly apt for a show like WICKED.
Thus far, we have a draft of the first act completed, and about a month ago, we did a table reading with a bunch of actors out in Los Angeles to evaluate where we were. Despite the fact that the first act ran two hours (at a table reading -- obviously, we aren't worrying about length yet!) it was extremely encouraging. We got much positive feedback and many helpful suggestions from the handful of friends and colleagues we invited to the reading. We are now at work on rewrites and on completing a draft of the second act, and we plan to have another reading in February, this time of the entire show. After that, we will once again evaluate where we are and plan our next step accordingly.
Needless to say, WICKED is occupying most of my creative time. But I played hooky from it a bit this month to proofread the songs for the upcoming Stephen Schwartz Songbook, which Warner/Chappell is publishing, and to do some writing and recording for my new CD, which will be entitled "Uncharted Territory." [opens new window to Amazon.com] The CD is the follow-up to "Reluctant Pilgrim" [opens new window to Amazon.com] and will contain twelve songs, all but two of them new. (In addition to the ten new songs, I'm including my versions of "Since I Gave My Heart Away" from GEPPETTO and a song I wrote with Alan Menken for the movie LIFE WITH MIKEY called "Cold Enough to Snow.") I had hoped to have the CD finished and ready for release by the end of the year. I'm not sure how realistic that deadline is anymore, but I am plugging away at it.
In the midst of all this, we seem to be in the middle of a National GODSPELL Revival Year. I was extremely happy with the recent revival at the York Theatre and am disappointed that it doesn't seem as if they are going to be able to transfer it for an extended off-Broadway run.
I found it to be the most like the original in feel and tone of any of the productions I've seen over the years -- most of it was just downright hilarious, yet it was quite moving at the end. In the last week of its run, I had a great evening when I attended a performance with three of the original cast members -- Peggy Gordon (who wrote the music for "By My Side"), Sonia Manzano, and Robin Lamont. It was great to see them and they loved the production. Lots of tears and memories, and it was fun when they each met their counterparts in the cast after the show. (Obviously this made for excellent photo ops.)
A few weeks before, I had traveled to Nashville to see the touring production, directed by my son, Scott. It's been getting amazing reviews for the imaginativeness of its reconception. I was recently asked to write a few paragraphs for the booklet that will accompany the CD recording of the production, and I thought I'd share those remarks with you:
"When GODSPELL originally premiered a little over a generation ago, we were in a divisive time in America. It was the height of the Vietnam War and its accompanying 'Generation Gap,' and mistrust and hostility between Americans of different ages, races and political philosophies ran rampant. Thus, the show's message of community building resonated for audiences of that time.
"Today, in these early days of a new millenium, we once again find bitter divisions in our society -- what some have termed a 'cultural civil war.' Although we have no major crisis such as Vietnam over which to contend, our national discourse has become mean-spirited and fractious, and Americans once again find reasons to hate one another because of differences in race, religion, ethnic background, sexual orientation or political leaning. In our contemporary civilization, there is a noticeable lack, as writer Scott Peck would put it, of 'civility.'
"And now, here is this new touring production of GODSPELL. Director Scott Schwartz's production, set in a junkyard of discarded television sets and computer monitors, makes dazzling use of contemporary technology, from an opening in which philosophers send their contrary opinions flying over the Internet, to its clever employment of closed-circuit television cameras, green-screen, and a host of up-to-the-minute techniques, jokes and references. And the exciting new musical arrangements by Alex Lacamoire provide perfect state-of-the-art accompaniment. But at its heart, and best of all in my opinion, this is a new generation once again telling a timeless story -- how a community is formed around a man with a simple but profound message: 'Always treat others as you would have them treat you' and 'Anything you did not do for one of your brothers here, you did not do for me.' It's a story we all clearly still need to hear."
Finally, next Saturday I travel to London for final casting of the upcoming British revival production, which is supposed to begin at Chichester in December. So much GODSPELL -- it feels like 1972 again!
That's my story for now. I'll report progress next quarterly. Thanks to all of you for your interest in my work.
Sincerely, Stephen Schwartz
2. Stephen Schwartz's Update, Winter 2001
I am sitting here watching what looks as if it is going to be a record amount of snowfall white-out the sky and make a bleak but beautiful monochromatic wilderness of my yard. Since my house is warm enough and I have a fire going and enough food for a couple of days, this gives me a feeling of coziness and, yes, smugness. But what I like best about it is that, forced to be a shut-in, I have no choice but to do the work I have assigned myself on WICKED.
I am just finishing the opening number for the second act. All of the lyrics for the number are done, and I have just a little more music to solve in the middle of the number to complete it, or at least this first draft of it. I am determined to have it finished by the end of the year, tomorrow -- an arbitrary deadline, true, but one which I feel intensely enough to be sure I meet.
Uncharacteristically, I have found I am often writing lyrics before music on this project. Perhaps that is because the story of WICKED is so intricate and complex, I have to be sure each song is telling not just a story, but the exact right story. Sometimes this is challenging. This opening for Act Two is a case in point. Act One ends with the transformation of the leading character into the Wicked Witch of the West we have come to know (and love), and Act Two opens some months later. We want to find out how her fame, or rather infamy, has spread throughout Oz.
I spent several weeks compiling material for a chorus number in which various rumors and exaggerations about her would be exchanged. I had pages and pages of lyric ideas and musical sketches. Yet every time I tried to write the actual number, something stopped me. The tone felt wrong. It kept feeling as if I had suddenly slipped into the world of children's theatre, and it lacked the subtextual richness and satiric bite that we think we have found for the first act. Finally, after a long discussion with Winnie Holzman, my collaborator who is writing the book for WICKED, we discovered that it was the wrong event for the number. There was no story context, and thus the number was quickly telling us something we more or less already knew and then was simply marking time.
We decided to have the people of Emerald City gathering not simply to gossip about the Wicked Witch, but for a specific purpose -- to watch the celebrities arrive for the fabulous engagement party of Glinda, who has recently been named Good Witch of the North. Since we also know the character she is becoming engaged to and have feelings about him, it gives a strong forward push to the story. Within this context, the people can still worry about the Wicked Witch arriving to spoil the celebration, and they can gossip and exchange misinformation about her, but there is immediately a more sardonically comic tone to the scene.
Once this discovery was made, I have been able to write the number relatively quickly. I have no doubt that there are other writers who could have made the original idea work, but I couldn't do it. Likewise, I'm sure there are writers who would not have liked the context we chose, but it worked for me. This is one of the things that is endlessly fascinating to me about the writing process: how individual each writer's response to material is.
The goal for Winnie and me is to have a draft of the second act -- book and at least the most important numbers, plus re-writes of the first act -- completed in time for a reading in Los Angeles at the end of February. Is this another arbitrary deadline? Absolutely. But it is those deadlines that, at least for me, make it possible for me to get the work done. Otherwise, I would procrastinate forever. For the next Quarterly, I should be able to report on how the reading went and what our next goal for WICKED is.
The snow is still falling heavily and swirling enough to discourage anyone with any sense from venturing out. So I am going to close now and march myself off to the piano and get that damn number finished! Best to all of you for the new year, Stephen
3. Stephen Schwartz's Update, Spring 2001
I am happy to report that book writer Winnie Holzman and I did indeed manage to complete a first draft of the script and score for WICKED in time for the recent readings in Los Angeles. The first of these took place on February 23rd, and we were delighted (and relieved) by the enthusiastic response from our invited audience. Both Winnie and I had invited some of our "brain trust" friends, and aided by their suggestions and the always invaluable insights of our producer, Marc Platt, we were able to make surprisingly many improvements for the second reading on March 2nd. This also met with extremely positive response. I was especially pleased to see how funny the show played, and yet how the audience could go from laughing one moment to becoming teary-eyed the next without the show feeling inconsistent in tone. Most of the numbers seemed to work well, and I was able to do some reshaping and rewriting in the week between the two readings that helped the ones that needed it.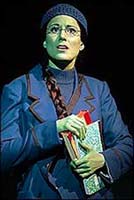 For the record, our wonderful cast included Stephanie Block as Elphaba (who becomes the Wicked Witch of the West), Kristin Chenoweth as Glinda, and Lenny Wolpe as the Wizard. I won't give the roles of the rest of the cast, since the character names will be meaningless if you haven't read the book, but our exceptionally talented actors were David Burnham, Marian Mercer, Michelle Duffy, Alan Zachary, Melissa Fahn, Beth Wishnie, Doug Ballard, Walter O'Neil, Jeannie Kaufman, Peter Blair, and Ron Fassler. The musical director for the show, Stephen Oremus, flew out to help teach the songs and play the piano for the reading, and he also did an incredible job. Winnie and I are extremely grateful to them all.
[Note: The photo of Stephanie Block was taken many years later when she performed on the Wicked tour. During readings, actors don't dress as the characters - Photo by Joan Marcus]
Our next step is to find a director. If the director's schedule permits, we hope to do a workshop by the end of the summer. The first time the public will be able to see the show should be in a regional production, which we hope will be sometime early next year, again depending on schedules and interest and availability from regional theatres. Of course we know we have a long, long road ahead of us (filled with endless rewriting), but it feels enormously satisfying to have reached this point -- a complete musical!
While our search for a director goes on, I am putting my time to good use by going back to work on the "Uncharted Territory" CD. I hope to have it all recorded by the beginning of May and mixed by June. So a late summer or early fall release date looks likely. I'll definitely have it out in time for the series of concerts I am doing in October. That's my report for now. I hope to be able to have the name of the director for WICKED as the lead item for my next quarterly update.
4. Stephen Schwartz's Update, Summer 2001
Another quarter year has gone by, and I STILL can't tell you who the director of WICKED is going to be. I can say we're closer to knowing, and I may even know by the end of next week, but at this point I have nothing to report on the WICKED front.
In the meantime, I have been occupying myself chiefly by finishing the recording for my new CD, UNCHARTED TERRITORY. I have only one day of recording left to do -- putting live drums on a couple of tracks, plus violin, French horn, and a couple of flutes on two or three others -- and it's done. Then begins the mixing process (during which I will undoubtedly throw out at least a third of what we've recorded.) I expect to be finished with the CD by the end of July and hope to release it by September. My self-imposed deadline, as I think I've mentioned before, is October, because I am doing several concerts that month and am planning to do a lot of the new songs from the CD. (Oh, and joining me for those concerts, along with the fantastic Scott Coulter, will be Liz Callaway which I'm very excited about.)
I had a nice experience last month: There was a GODSPELL 30th Anniversary reunion party held in Los Angeles, attended by many of the members of the original cast, three of the four original band members (who not only played songs from the show, but actually remembered the charts!) There were also many people there from the Boston, Washington, and Chicago companies, plus the national tour and bus-and-truck companies. It was great to see people I hadn't seen for literally decades, and I have to say that, somewhat to my surprise, most of them looked great.
A highlight was watching a bunch of the performers who had sung a song in one of the various companies get up and stumble collectively through their old numbers, and to realize while watching what they had all gone on to accomplish since the show. For instance, although the original Jeffrey (Mylett) is no longer with us, having succumbed to complications from AIDS back in the mid-80's, it was fun to see a gaggle of Jeffreys -- including Dean Pitchford (lyricist of "Fame" and "Footloose"), Dan Lipman (writer and producer of "Queer as Folk"), and Mark Shera (former star of "Barnaby Jones," etc.) -- sock out "We Beseech Thee," a little raggedly but full of enthusiasm. And of course, the absence of Jeffrey and many other GODSPELL alumni who are no longer with us was especially poignant.
A lot of this past quarter has also included enjoying my son Scott's success with his two current off-Broadway hit musicals: BAT BOY and TICK, TICK.... BOOM. It's been particularly gratifying to watch him handle both the pressures and the pleasures with far more grace than his dad did when he first started out.
By my next quarterly report, I should have specific news about the CD release and, with any luck, even a director for WICKED.
Wishing you all a great summer, Stephen Schwartz
5. Stephen Schwartz's Update, Fall 2001
Well, finally. A quarter with some real progress to report.

First of all, I am delighted to announce, at long last, the completion of my new CD, UNCHARTED TERRITORY. It has been recorded, mixed, mastered, and delivered to the record company, Fynsworth Alley. It should be available as of the first or second week in October.
[EDITOR's NOTE - The CD is no longer available as Stephen notes here, but to find it, see our UNCHARTED TERRITORY page.] It can be ordered from the Fynsworth Alley Website or by following the link from my Website (stephenschwartz.com).]
For a couple of months, this will be the only way it will be available, in a Special Edition version that includes a bonus track. The standard edition of the CD should be available in stores and through sites such as amazon.com around December (in time for Christmas.)
The bonus track included in the Special Edition is a song I wrote with film composer Alan Silvestri to benefit the Juvenile Diabetes Research Foundation. It's called "Promise to Remember Me," and it was recently sung on the steps of the Capitol building in Washington DC by about two hundred kids with diabetes, to call attention to their cause and especially to encourage funding of stem cell research. I wish I'd had those great kids to sing with me on the track, but listeners will have to be content with only me.
The eleven other songs on the CD are mostly new pop songs, as on my previous CD, RELUCTANT PILGRIM, though I think this CD represents a bit of a musical departure for me (hence the title UNCHARTED TERRITORY). It does include a song from my TV musical GEPPETTO ("Since I Gave My Heart Away") and a song I wrote with Alan Menken a few years back called "Cold Enough to Snow," which was used on the soundtrack of a not-widely-seen movie called LIFE WITH MIKEY. In addition to the song co-written with Alan, there are four other songs that are collaborations; my co-writers are John Bucchino, Mary Fahl, Steven Lutvak, and Lindy Robbins, and I thank them for their wonderful lyrics and/or music. And then there are five new songs that I wrote on my own. I am very excited by how well I think the CD has turned out, and I hope you will be too when you hear it.
The other piece of exciting news I have to report is that we have finally chosen a director for WICKED, the new musical I am writing with bookwriter Winnie Holzman. The director will be Joe Mantello, known for directing the play and film version of LOVE! VALOR! COMPASSION! and the current off-Broadway hit THE VAGINA MONOLOGUES among many other terrific shows. Winnie and I have had some highly productive working sessions with Joe, and we are currently hard at work doing the rewrites we have all enthusiastically agreed upon, in preparation for a reading we are planning for December. A casting director, Tara Rubin, has also been brought on board, and I expect to be able to announce who will be playing the two leading roles, Elphaba and Glinda (the Witches of the West and North respectively), in my next quarterly update.
Best to you all, Stephen
Fall 2001, September 25 addendum
Dear Friends:
When I wrote the cheery and optimistic update for this quarter's newsletter, it was prior to the horrific events of September 11. Rather than go back and artificially tone it down, I thought it better to leave the update as it was, a reflection of a moment where we could all be more blissfully self-involved.
This past week, I have had the honor of singing at benefits for the families of victims of the attack. To quote from the song I have been asked to perform at the events ("Beautiful City"):
"When your trust is all but shattered
When your faith is all but killed
You can give up bitter and battered
Or you can slowly start to build
A beautiful city
Yes, we can; yes, we can
We can build a beautiful city
Not a city of angels But finally a city of man."
Bless you all. I wish all of us happier days ahead.
Love, Stephen
Continued....
To continue after this page, see
To read additional content for The Schwartz Scene back issues see The Schwartz Scene archive
Please DO NOT copy and paste this copyrighted content into your own blogs or websites. You may link to this page but do not copy the content. Thanks. COPYRIGHT reserved by MusicalSchwartz.com