"Defying Gravity" from Wicked: Song Lyrics, CDs, Sheet Music, Meaning, and Stephen Schwartz's comments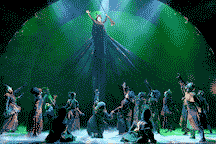 ON THIS PAGE:
Defying Gravity Albums - Defying Gravity Sheet Music - Defying Gravity Book - Defying Gravity Gifts - Defying Gravity Lyrics- Defying Gravity comments
[Photo by Joan Marcus is of Idina Menzel and the ensemble singing "Defying Gravity" during the Act I climax of Wicked].
In addition to the information provided here, the page contains affiliate links. If you make a qualifying purchase after clicking on a Musicnotes, Amazon, or Sheet Music Plus link, we receive a commission, which helps support this independent website.
About the Book Defying Gravity
The Book Defying Gravity Gives Context to the Song and Musical
Defying Gravity: The Creative Carer of Stephen Schwartz, from Godspell to Wicked 2nd Edition adds layers of meaning to the Wicked theatre-goers experience by taking readers inside the creative experiences of its development team. Author Carol de Giere devotes 150 pages to Wicked, presenting the musical's sometimes-challenging journey from conception to opening night on Broadway, plus NEW Chapter 30: Wicked Worldwide and more. READ MORE OR BUY Defying Gravity the book
Hear "Defying Gravity" on CDs, DVD, and Karaoke
The original "Defying Gravity" on the cast album

Wicked Cast Album - the 5th Anniversary album includes the version by Idina Menzel and Kristin Chenoweth plus Idina's dance mix version of the "Defying Gravity." Christian Science Monitor review of the original cast album: "The album's hands-down best number is the liberation anthem "Defying Gravity," when Chenoweth pairs with the almost unimaginable vocal power of Idina Menzel. It simply soars, and stays with you long after the soundtrack ends. [1/13/06]
Idina Menzel Concert DVD, CD, and Remixes

DVD: Idina Menzel sings "Defying Gravity" and other Wicked songs (Amazon.com exclusive)
This PBS special was captured in Toronto at Koerner Hall, where Idina Menzel performed with the 52-piece Kitchener-Waterloo Symphony, one of Canada s premiere symphony orchestras. The legendary Marvin Hamlisch served as guest conductor. March 2012. She sings "Defying Gravity," "For Good," and "I'm Not That Girl" from Wicked, and other songs from other shows.
Idina Menzel concert CD only - Amazon.com CD or Mp3
From Wicked: "For Good" and "Defying Gravity"
Glee Soundtrack version of "Defying Gravity"

Glee:The Music, Volume 1 (amazon.com)
- includes "Defying Gravity"
OR get the complete Season One, which includes "Defying Gravity." Glee Music: Complete Season One CD Collection
2009 soundtrack to the hit TV show featuring tracks performed by the show's cast. "Defying Gravity" from the Broadway musical Wicked is one of the songs on the album.
Rachel Tucker sings "Defying Gravity"
Former London Elphaba, Rachel Tucker, sings "Defying Gravity" on her album The Reason
.
Kerry Ellis's "Defying Gravity"
Kerry Ellis sings "Defying Gravity" on her album Anthems (Amazon.com)
Kerry performed as Elphaba in the London production of the hit musical as well as on Broadway. She was the first British actress to ever take on the role.
Sutton Foster sings "Defying Gravity"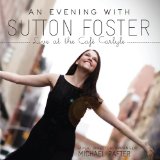 This live concert performance is by popular Broadway diva Sutton Foster on her solo album debut. Sutton Foster has won a Tony Award for Best Actress and performed on Broadway in many shows.
An Evening With Sutton Foster - Live At The Cafe Carlyle
Enjoy a version with simple piano accompaniment. Foster recorded this album at New York
City s legendary Café Carlyle at The Carlyle Hotel. Feel like you're there in the audience.
Ben Vereen sings "Defying Gravity" Jazz style
Broadway legend Ben Vereen offers his rendition of two of Schwartz's most popular songs: "Defying Gravity" (Wicked) and "Corner of the Sky," (Pippin). The accompaniment style is that of a jazz group/cabaret band. Steppin Out Live - Ben Vereen sings Defying Gravity .... (Amazon)
Debbie Gravitte sings "Defying Gravity"
Debbie Gravitte - Defying Gravity
Debbie is a singer Stephen Schwartz chose to be part of his Stephen Schwartz and Friends concerts. Schwartz has accompanied her at the piano during these concerts as she sang "Defying Gravity," so she knows how the composer likes it sung.
Leslie Henstock Defying Gravity album
Leslie named her album after the Stephen Schwartz song. Defying Gravity on Amazon.
Album review from TalkinBroadway.com "...The voice is especially sweet and youthful, the renditions earnest, the repertoire mostly musical theater. I liked her sunny sound right away."
"Defying Gravity" Karaoke Accompaniment Tracks
To find backup tracks for singing "Defying Gravity," see Wicked Tracks
Defying Gravity Sheet Music

GET THE MUSIC TOO - Wicked Songbooks details OR
Instant download "Defying Gravity" - From piano vocal selections book
Instant download "Defying Gravity" - From easy piano book
Where can you find the best souvenirs including "Defying Gravity" t-shirts? Check out the Wicked shop page for fans: Wicked posters, Wicked logo clothes such as t-shirts (tees) and sweatshirts, keepsakes like souvenir program books, and more. USA and UK: Visit our Wicked Shop page
Look carefully on that page because you'll also a find a list of wonderful Wicked-related books like Defying Gravity, The Grimmerie, Unnaturally Green, Gregory Maguire's novels, a Broadway game, and more.
All these goodies make fine souvenirs and gifts for Wicked fans.
"Defying Gravity"
music and lyrics by Stephen Schwartz
(Copyright by Stephen Schwartz. Used with permission.)
GLINDA
Why couldn't you have stayed calm, for once! Instead of flying off the handle -- !
I hope you're happy
I hope you're happy now
I hope you're happy how you've
Hurt your cause forever
I hope you think you're clever
ELPHABA
I hope you're happy
I hope you're happy too
I hope you're proud how you would
Grovel in submission
To feed your own ambition
GLINDA & ELPHABA
So though I can't imagine how
I hope you're happy
Right now
GLINDA
Elphie, listen to me. Just say you're sorry!
You can still be with The Wizard
What you've worked and waited for
You can have all you ever wanted -
ELPHABA
I know
But I don't want it - No!
I can't want it anymore
Something has changed within me
Something is not the same
I'm through with playing by
The rules of someone else's game
Too late for second-guessing
Too late to go back to sleep
It's time to trust my instincts
Close my eyes
And leap...
It's time to try defying gravity
I think I'll try defying gravity
And you can't pull me down
GLINDA
Can't I make you understand
You're having delusions of grandeur?
ELPHABA
I'm through accepting limits
Cuz someone says they're so
Some things I cannot change
But till I try I'll never know
Too long I've been afraid of
Losing love I guess I've lost
Well if that's love
It comes at much too high a cost
I'd sooner buy defying gravity
Kiss me goodbye, I'm defying gravity
And you can't pull me down!
Glinda, come with me. Think of what we could do - together!
Unlimited
Together we're unlimited
Together we'll be the greatest team
There's ever been - Glinda!
Dreams the way we planned 'em
GLINDA
If we work in tandem
GLINDA & ELPHABA
There's no fight we cannot win
Just you and I, defying gravity
With you and I defying gravity
ELPHABA
They'll never bring us down!
Well, are you coming?
(GLINDA decides to stay behind.)
GLINDA
I hope you're happy
I hope your happy now that your choosing this -
ELPHABA
You too--
I hope it brings you bliss
GLINDA & ELPHABA
I really hope you get it
And you don't live to regret it
I hope you're happy in the end
I hope you're happy my friend
ELPHABA
So if you care to find me
Look to the Western sky!
As someone told me lately
Everyone deserves the chance to fly
And if I'm flying solo
At least I'm flying free
To those who ground me
Take a message back from me!
Tell them how I am defying gravity
I'm flying high, defying gravity
And soon I'll match them in renown
And nobody in all of Oz
No Wizard that there is or was
Is ever gonna bring me down!!
GLINDA
I hope you're happy
CITIZENS OF OZ
Look at her
She's wicked
Get her!!
ELPHABA
Bring me down!
CITIZENS OF OZ
No one mourns the wicked
So we got to bring her -
ELPHABA
Ahhhh!
CITIZENS OF OZ
--Down!
Back to the main Wicked Lyrics page Or read more about Wicked at Wicked Broadway, Tour, and more
"Defying Gravity" Comments and Meaning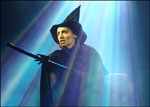 Notes from Carol de Giere, editor of The Schwartz Scene:
About the meaning of Defying Gravity and Song Placement: Stephen Schwartz planned the first act climax of Wicked in his mind as he conceptualized the musical. He knew he'd write a musical number that expressed Elphaba's shift in perception about the Wizard, and her changed behavior.
In the novel it happens quietly. In the musical it would have to be clear and bold. Early in the show's development, he stepped into the character and wrote a version of "Defying Gravity." Idina Menzel learned and sang it in the readings during the development process. It was always an audience thriller, even without any fancy staging.
Menzel was able to enhance the song by bringing the final section up an octave from the original pitch Schwartz had written. [Photo by Joan Marcus is of Eden Espinosa singing "Defying Gravity."]
The song represents Elphaba's transformation. She had grown up as a social outcast. She was the only green girl in Oz, and she longed for acceptance by her peers and for love from her father. To achieve this, she dreamed of being in close association with the great and powerful Wizard of Oz, achieving something good that Ozians would appreciate.
But when we see her at the end of act I, she has woken up to other personal values. She cares about others, especially those who are downtrodden like her. So when she discovers that the Wizard is oppressing a certain segment of Ozian society, her dreams of associating with him are tested. During the song, she makes a resolution for a new direction in life. She decides that living with integrity is more important than being accepted. She no longer wants love if it "comes at much too high a cost."
She also is taking ownership of her latent magical talent. She makes use of magic to defy gravity in the physical sense and fly off, above the crowds.
IDINA MENZEL Comments on the Meaning of "Defying Gravity," the song.
Quoted in an interview from www.advocate.com
Question: Speaking of "Defying Gravity," why do you think so many people respond to that song?
Idina Menzel: At some point in our lives, I think all of us feel that we're weird or different. I know I can be very self-conscious about who I am and how I'm perceived. And it's at that moment in the show that [Elphaba] decides, "I'm going to do this differently now. I'm gonna stop caring about what people think and just embrace who I am. F_ _ k what anybody else thinks." She's our hero because she stands up and does it. There's also the other aspect that as a woman, it's sometimes hard to be really fierce and strong. You want to be kick-ass, and yet as women we're sometimes afraid we'll be perceived as a bitch. The song is that character's way of harnessing her incredible power and using it to change the world and influence people while not fearing her strength. I'm so thankful that I had that show because I could live in her world and be as powerful as I wanted.
GREGORY MAGUIRE'S NOVEL: Wicked Musical Tie-in Edition : The Life... [new browser window]
QUESTION posted by "Wicked Lover" on StephenSchwartz.com forum by Stephen Schwartz
Wicked Lover: "I continue to get chills, as I first did in the theater, every time I replay Defying Gravity. It's currently my all-time favorite song from any musical ever. And that's saying something, as I've loved musicals all my life and devour scores for the ones I haven't seen or heard. I can't play piano worth beans, but I read music well and brought the magic show to life in my head long before I finally found the songs recorded.
So my question is - at what point did Defying Gravity come into being? Was it one of the original songs, written from the start? Did it replace an earlier something? I've seen shows evolve and it's interesting how sometimes the best songs are last minute additions to the show. So I'd love to know the history of that one. It's just FANTASTIC. AMAZING. INSPIRING. Tell me all about it!
Answer from Stephen Schwartz: "Dear WICKED lover: Thanks for your message, and obviously, I'm delighted by your enthusiasm for the show. "Defying Gravity" was written fairly early in the writing process and has been in the show since the first reading we did of just the first act in the fall of 2000 (it was written in the summer of 2000.) It is the only song I wrote for the end of the first act (unlike other spots in the show for which I wrote several numbers). The hardest thing about the writing process was arriving at the title, but once I did, the song flowed pretty quickly and easily, and the basic song itself hasn't ever really changed; the lyrics in the final show are the originals, as is the tune and accompaniment. But the surrounding material ("I hope you're happy") evolved over time, and during our readings, Glinda became more involved, as in the chorus where the girls sing in harmony or her line "if we work in tandem", which used to be Elphaba's. (This may be more detail than you wanted, but I thought I would answer fully.) Thanks again for taking the time to write, Stephen Schwartz
Chants Schwartz made up to use before "Defying Gravity" - Levitation Spell:
AHBEN TAHKAY, AHBEN TAHKAY, AHBEN AHTUM
AHBEN TAHKAYAH
ENTAYAH TINFENTAH
AHBEN TAHKAY
Praise for "Defying Gravity" and Wicked
From Terri K. of McHenry Illinois
My interest in "Wicked" stems from when I was a child and always wondered why the 'wicked' witch was thought to be so bad - she was the one character that I had always wanted to know more about. I always thought there was more to the story or, at the very least, the winged monkeys wouldn't have stayed with her.
Last year for my birthday, my friend took me to see the show in Chicago. When we left the show, I told my friend that being like Barbie is so passe - if girls want a role model, it should be Elphaba. She is strong, loving, smart, and can do magic, plus at the end, she gets the guy. What more can you ask for? This year, I took my two teenaged daughters to see it. The best part of that experience was seeing each of them identifying with the two witches - one is almost exactly Galinda/Glinda and the other is more like Elphaba. They now have a little more understanding and compassion for the other's point of view due to being able to like both of the witches.
I have to tell you that my favorite song from the show is "Defying Gravity". I love the message of the song, that no matter what anyone says or does, Elphaba is going to live by her own code of conduct, find out what she is really capable of doing, and to make herself happy, not others. It is a very strong and positive message that I have adopted as my own personal 'theme song'.
From Colby of Eagle Grove, Iowa: "What I love about Wicked is the song Defying Gravity, how she flys in the air. Makes me break into tears everytime..."
From BW of Northridge, California: My interest in Wicked is actually enormous, it is actually the musical that caused me to want to become a musical writer, I was never interested before that, but after I loved it so much and it inspired me so much, I decided that I wanted to do the same for other people. I'm sure everyone says this, or you hear it frequently, but "Defying Gravity" is literally my favorite song ever created, no exaggeration. Now that is a big thing because most people I know, previously myself included, can't even decide what their favorite song is because there are so many good ones, but this is one that surpassed everything I'd ever heard by far. Also, Wicked is my favorite work of art I've ever seen, and I don't say that lightly, I've seen more movies than most people, and seen and performed my fair share of plays, this easily "rises above" any of those, and is truly a beautiful piece of art.
From Erin of Charlotte NC:
A friend introduced me to Wicked around 2 years ago. I listened to the song Defying Gravity, and was completely stirred by shivers, it was phenomenal! I am a die hard Wicked fan! I sat my family down one night to listen to For Good, Defying Gravity and No Good Deed, and my dad whose is so critical, was speechless. It was amazing and nothing would please me more than to be chosen. Thank you! And amazing job!!
From Carla M. of Michigan:
A few years ago I had to divorce my husband. Then my ex stopped paying child support. I went from living a comfortable life to being a single mother on welfare. Then I was diagnosed with cancer, so as well as trying to make ends meet and provide a sense of security for my three young children, I was fighting for my life. I can not tell you how much the song "Defying Gravity" helped me during this very difficult time. The song has become my personal anthem. It brings me strength every day.
Wicked Links
Visit Wicked home page for Wicked-related pages
including shop, show history, FAQs, tour schedule, and more.