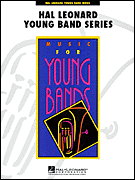 Highlights From Wicked - Band and Concert Band
This medley is arranged by Michael Brown is from the Music for Young Bands series. It includes: No One Mourns the Wicked, I'm Not That Girl, Defying Gravity, No Good Deed and For Good. (Hal Leonard Corporation)..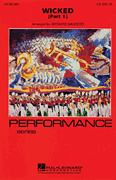 Wicked Part I - No One Mourns the Wicked - Marching Bands
From Hal Leonard Corporation Series: Performance/Easy Limited Edition. Arranged by Richard L. Saucedo, this powerful opener for the field features the dramatic opening strains from the show and the wickedly intense No One Mourns the Wicked.
Wicked Part II - Dancing Through Life and Defying Gravity - Marching Bands
From the hit Broadway musical, this production number includes a light rock treatment of Dancing Through Life and a creative setting of Defying Gravity. This is skillfully constructed to include musical contrasts and visual impact points for the field. (Hal Leonard Corporation). Arranged by Richard L. Saucedo.
Wicked Part III - No Good Deed, For Good; No One Mourns The Wicked - Marching Bands
From the tender and moving For Good, to the angry passion of No Good Deed and No One Mourns the Wicked, this dynamic closing production from the hit Broadway musical Wicked will leave your audience breathless! (Hal Leonard Corporation). Arranged by Richard L. Saucedo.
Commentary
Wicked's Groundbreaking Score
by Robert Vieira
Page 1 (Introduction) | Page 2 (Act I) | Page 3 (Act II)
Copyright © 2005 Robert Vieira. All rights reserved. Hyperlinks © 1996-2004 Virginia Tech Multimedia Music Dictionary
About this article
Robert Vieira is a musical dramatist working on a new show with Titanic's Jennifer Piech. His music and words can be found on over 50 video games, TV's Sesame Street, interactive toys, and a nearly-finished history dissertation at U.C. Berkeley.

Amazon.com - Wicked CD [new browser window]
Other Wicked Music Links: Music info (CD, articles) | Sheet Music |
This article was published for issue 18 of The Schwartz Scene
Introduction
In February 2005, the CD of Wicked received a Grammy® Award for Best Musical Show Album. The question arises, how is Stephen Schwartz's score and CD so successfully dramatic? I believe part of the answer lies in the use of what I'll call "breaks and links." Ultimately, this is how the score is dramatic. Wicked's score is groundbreaking because it represents a new level of melding pop idioms with sophisticated musical theater song construction. The frequency and dramatic density of Wicked's score's breaks and links is one way to describe this achievement.
The many "breaks" in the songs of Wicked serve plot advancement and character transformation by "breaking" tonality and tempo. Sections marked "Freely" in Wicked's Vocal Selections identify some of these breaks. By moving Wicked forward, breaks prevent the application of dramatic brakes. They moderate the drama's metabolism by speeding it up, slowing it down, moving it toward speech, and pushing it toward money notes. Stephen Schwartz's "Note from the Composer" in the Vocal Selections mentions the process of extracting the show's songs from their dramatic context—this entailed removing many breaks and links which make no sense in stand-alone versions of songs.
Counterbalancing the breaks in the score are the performance decisions and lyrical/musical links that unify Wicked. In addition to listening for breaks, we will examine the deft use of such links. The combination of breaks and links is how Wicked's score supports the needs of the libretto. Stephen Schwartz never sacrifices drama for the conventions of songwriting. The whole organization of Wicked's score—both in terms of song structure and the alternation of song types—supports drama because it is a score, not a collection of pop tunes. Wicked's music might be described as "folk/pop-influenced," but it wildly transcends those styles. For all these reasons, I'll analyze the score independent of any particular lyrical or musical style.
The following aspects of musical theater will guide our examination: harmonic dynamism, non-diatonic melody writing (to color lyrics), the structural handling of recitative, and the use of leitmotivs and lyrical links. Breaks crack open a song's structure and accommodate verse-intros, dialog, parlando, and colla voce passages. Melodic and lyrical links serve the dramatic purposes that lead to the breaks in the first place. All these technical aspects help us to take things apart and see how the machine works, but analysis is a fool's errand without constant attention to how everything comes together to make a show work. I will, therefore, comment on the purely dramatic and performance aspects of the scenes as captured on CD. Winnie Holzman, Gregory Maguire, William David Brohn, Joe Mantello and others contributed to the success of these dimensions. I will also examine Schwartz's songs in their presentation sequence, rather than organizing this article by analytical categories. Wicked's songs comprise an ordered evening of entertainment and we must respect the score's integrity. The complex structure of good show scores is why songs most important to a play's drama became our favorites after our 67th listening.
If you'd like to join me on my 68th time listening to Wicked, let's spin the CD and explore the score.
Page 1 (Introduction) | Page 2 (Act I) | Page 3 (Act II)
Wicked Home Page | Return to Wicked Music Index for more articles

Don't miss our Wicked Shop for logo shirts, posters and frames, gift certificates, etc

For sheet music for Schwartz's earlier musicals check out the Stephen Schwartz Songbook.It includes 292 pages of songs.